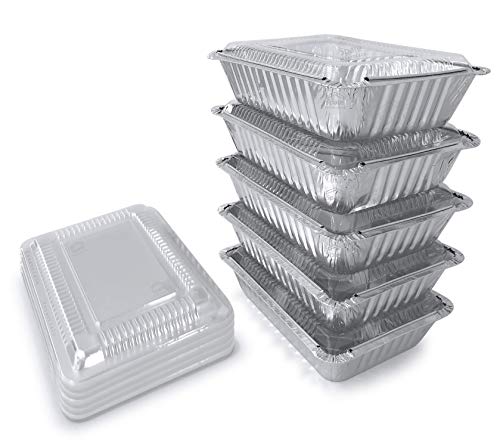 Brand: Spare EssentialsColor: Platic LidsFeatures: ❶ BEST VALUE FOOD SERVICE SUPPLIES: Great for bake and sale! Foil containers made with sturdy foil that will perform excellent in the kitchen. Durable...
FREE
SHIPPING
100% MONEY
BACK GUARANTEE
ONLINE
SUPPORT 24/7
Brand: Spare Essentials
Color: Platic Lids
Features:
❶ BEST VALUE FOOD SERVICE SUPPLIES: Great for bake and sale! Foil containers made with sturdy foil that will perform excellent in the kitchen. Durable and convenient foil pans. 55 pans and 55 lids, perfect for baking, cooking, fridge or freezer and transfer. Dimensions/ Standard Size: 8.5''X6''X1.5''
❷ PLASTIC LIDS INCLUDED: Each Foil Pan comes with a plastic lid, it is a very convenient way to pack food. Don't even worry about covering the pan with foil. The Disposable Aluminum Pans come with closeable hemmed edges that quickly seal the included lids tight. The lids are transparent allowing you to see through and easily recognize the food content in the foil pans. 
❸ FOOD TO GO: These Happy Birthday to go aluminum containers enable kitchen staff members to package up foods for individual purchase, bulk retail, or catering applications. This set ensures that entrees and appetizers stay fresh until your customers get home. Even better, they can quickly reheat their food by placing the foil tray right in the oven!
❹ MEAL PREP - HEALTHY CHOICE! You'll have a home cooked feast on hand that can be heated up faster than you can imagine. These meal prep containers are also perfect for any occasion: take out, delivery businesses, picnics, deli's, schools, camps, medical facilities, cooking classes and more.
❺ EASY TO USE & DISPOSABLE: Save or share leftovers without worrying about getting your aluminum tray back! Dispose the foil packaging and enjoy your spare time.
- FREEZER TO OVEN CONTAINERS: These foil trays are good for anything that you want to freeze. Take them from the freezer, take off the lid and put them in the oven. Works great!
- IDEAL FOR LEFTOVERS: Use them for friendsgiving leftovers. Versatile and easier to use compared with cling film, plastic jars, plastic bags, heavy dishes and serving trays.
- HOLIDAYS FOOD STORAGE & CHRISTMAS COOKIES CONTAINERS: Get ready with your thanksgiving togo containers, bake your meals, cookies or desserts, and share them with friends.
- NACHO TRAYS: Unlike paper trays, these food containers are more durable, which allows you to have a leak-free meal at gatherings. Also use them in your crab party as crawfish trays and make clean up a breeze!
Details: foil food containers, disposable aluminum foil pans, disposable foil pans, foil tray, aluminum food containers, aluminum trays with lids, cookie gift containers, christmas treat foil containers, christmas gift tins for cookies, gift tins with lids, holiday foil containers with lids, food containers, small cookie tins with lids, small cookie tin, holiday cookie tins, christmas treat tins, christmas tin container, cookie containers, containers with lids, foil containers, foil treat containers, holiday food storage containers, cookie tins, cookie christmas tins, holiday cookie tins with lids, foil, holiday containers, small holiday tins
EAN: 0600153767395
Package Dimensions: 9.0 x 7.0 x 6.5 inches
Shipping times can vary depending on your location and the fulfillment center used. On average, shipping times range from 5-10 business days. Most cases are much faster depending on location from our warehouses.