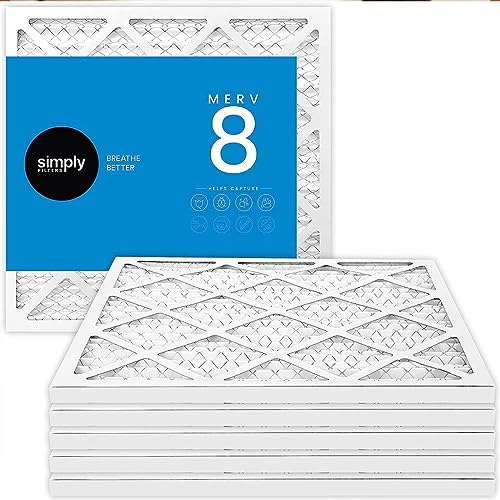 Brand: MervFiltersFeatures: Universally Compatible- This air conditioner, furnace and HVAC filter works with almost any brand. It is comparable to the 3M Filtrete MPR 600 Dust and Pollen, Filterbuy AFB...
FREE
SHIPPING
100% MONEY
BACK GUARANTEE
ONLINE
SUPPORT 24/7
Brand: MervFilters
Features:
Universally Compatible- This air conditioner, furnace and HVAC filter works with almost any brand. It is comparable to the 3M Filtrete MPR 600 Dust and Pollen, Filterbuy AFB Silver and the Honeywell FPR 5 models.
Create a Cleaner Environment- Entrap air particles that bring harm to you and your loved ones with our Merv 8 pleated air filters that capture dust, lint and pollen. Nominal Size: 16 x20 x1 , Actual Size: 15.75 x19.75 x0.75
Quality That Counts- Our expertly designed pleated filters boast more pleats than your average retail filter, boosting airflow and overall efficiency. Each high-quality filter is meticulously made in the U.S.A. with attention to detail, ensuring optimal performance for your residential home.
Long-Lasting Performance- Enjoy fresh and pure air with our long-lasting air conditioner filter. Our highly efficient pleated design and thick build provide excellent capture coverage of unwanted air particles, filtering the air for up to 3 months and allowing only clean air to pass through.
Simple and Easy to Use- Installing or replacing our air filters for AC units or furnace is as simple as it gets. Simply slide the filter into the air filter return of your unit and you're done. It's recommended to change your filters every 90 days to maintain optimal filtration. For homes with pets, children, or allergy sufferers, more frequent filter changes are advisable.
model number: MF162016
Part Number: MF162016
Details: Improve Air Quality & Promote A Cleaner Home Environment With Filters MERV 8 16x20x1 Pleated Filter The higher the MPR, the more microparticles your air filter traps from the air. MERV 8 16x20x1 air filters offer 600 MPR that coupled with the innovative pleated design helps prevent pollen, dust, pet hair and more from passing through. MERV 8 16x20x1 furnace filters are made using carefully chosen materials to deliver efficient performance even in the long run to help you maintain clean air at home or your office so you can breathe cleaner air even in high temperatures and humidity. Efficient & Lasting Filtration To Help You Breathe Cleaner, Better Air An efficient AC and furnace filter doesn't just help improve the quality of air but also helps prolong the lifespan of your unit. Effective air filters also save energy by reducing the strain on your AC by pulling in and trapping unwanted particles. With MERV 8, you don't need to worry about constantly replacing your filter. Each furnace air filter delivers efficient filtration that lasts up to 3 months making it ideal for homes with pets, people with allergies, or for anyone that just wants cleaner air. More Convenient Features: - Can easily be installed and replaced in a couple of minutes - Made to withstand exposure to moisture and dampness - Suitable for most 16x20x1 return grills and central unit slots - Made right here in the U.S.A following strict quality control guidelines - Helps reduce energy bills while keeping your home clean - Pleated filters are thicker and capture more particles Make The Smart Choice To Breathe Pure Air & Promote A Cleaner Home 16x20x1 MERV 8 Pleated Air Filters!
EAN: 0638126021991
Package Dimensions: 20.5 x 16.0 x 5.2 inches
Shipping times can vary depending on your location and the fulfillment center used. On average, shipping times range from 5-10 business days. Most cases are much faster depending on location from our warehouses.