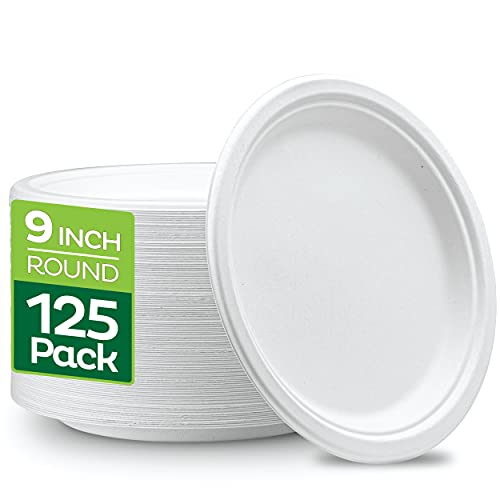 Brand: Stack ManColor: WhiteFeatures: ECO-FRIENDLY CHOICE: These aren't just plates or bowls; they're a revolution made from recycled/repurposed bagasse and bamboo. No trees harmed, just sugar cane leftovers turned into...
FREE
SHIPPING
100% MONEY
BACK GUARANTEE
ONLINE
SUPPORT 24/7
Brand: Stack Man
Color: White
Features:
ECO-FRIENDLY CHOICE: These aren't just plates or bowls; they're a revolution made from recycled/repurposed bagasse and bamboo. No trees harmed, just sugar cane leftovers turned into something amazing. We're tree lovers, just like you. They're thick sturdy, strong, and a and a symbol of your commitment to the environment and sustainability.
BIODEGRADABLE CHAMPIONS: These BPI-certified 100% compostable all-stars aren't destined for the landfill. At a commercial compost facility, they'll return to nature in 90 days flat. Zero waste, maximum impact! We really love our planet and are committed to keeping it clean!
HEAVY-DUTY AND MICROWAVABLE: Don't underestimate these nature warriors. Our plates are four times stronger than standard disposable paper or plastic ones. They're able to resist oil, sogginess, bending, and knife cuts. Plus, they're safe to use in the microwave, and can be used for hot or cold.
MEAL-FRIENDLY: Got a saucy spaghetti or a greasy BBQ dinner? Bring it on! Our plates and bowls are ready to handle all types of food with grace. Each plate, tray and bowl, brown or white, is designed to handle the messiest foods and soup without losing their cool. They won't break, wobble, bend or soak.
CHEMICAL-FREE GOODNESS: We're all about keeping it clean. We've taken extra care to make our plates PFAS-free, and we do not use any plastic or wax coatings, prioritizing both your family's health and the environment's wellbeing. Using our tableware not only shows your commitment to the environment but also protects your family's health.
JOIN THE GREEN FUTURE: When you choose our 100% plant-based tableware, you're stepping towards a greener, more sustainable future. It's more than just buying small lunch plates or compartment trays - it's choosing to be a part of the solution and caring for our planet. So why wait? Make a choice that matters. Order now!
model number: 100% Compostable 9" Paper Plates
Part Number: 9inch Paper Plates [125-Pack]
Details: 9 inch Paper Plates: Serve full meals in convenient style compostable food plates. Perfect to serve a main dish with sides. The biodegradable plates Makes a great choice for your daily meals or restaurants, food trucks, to-go orders, special events, and other types of food service environments. 100% Sugarcane Fiber: The nine inch plate is made of 100% sugarcane fiber, a sustainable, renewable, and biodegradable material. A great alternative to traditional paper or plastic, The disposable plate offers the same sturdy function and easy cleanup, yet It s completely Tree- and plastic-free. 100% Compostable: Since it's made from 100% sugarcane fiber, The plate can be commercially composted (no need to send it to a landfill). The plate offers a disposable design that will degrade quickly, which means convenient cleanup for you, your customers, and the planet. This Product meets ASTM D6400 or D6868 and is intended to be composted in a municipal or commercial facility operated in accordance with best composting management practices. Hot or Cold use: These plates can be used for hot or cold food items. It offers reliable strength and does not contain any plastic or wax lining. Microwave-safe: The plates are microwavable & freezable. Oil and cut-resistant. Note: Hot foods can cause the plates to perspire and condensation to form at the bottom. Perfect for any occasion: With a wide range of products and a classic design, Stack Man provides premium products and Peace of mind that you are providing all-natural organic tableware for your family and friends. Perfect for camping, picnics, lunches, catering, BBQs, events, parties, weddings and restaurants.
EAN: 0850024098015
Package Dimensions: 9.0 x 8.9 x 5.2 inches
Shipping times can vary depending on your location and the fulfillment center used. On average, shipping times range from 5-10 business days. Most cases are much faster depending on location from our warehouses.