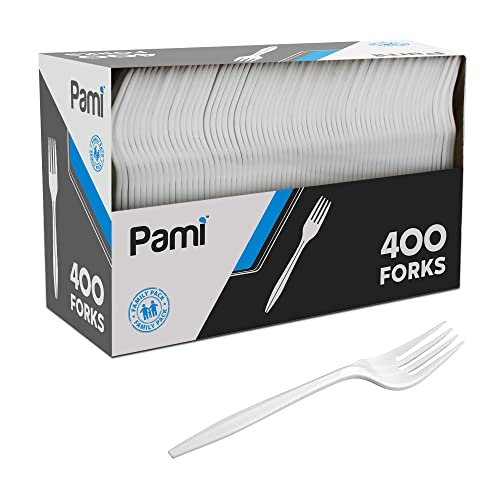 Brand: PAMIColor: WhiteFeatures: PRACTICAL & STURDY MEDIUM-WEIGHT PLASTIC CUTLERY: Made of the highest quality, durable plastic materials, the PAMI plastic forks, soup spoons, teaspoons and knives are strong and sturdy...
FREE
SHIPPING
100% MONEY
BACK GUARANTEE
ONLINE
SUPPORT 24/7
Brand: PAMI
Color: White
Features:
PRACTICAL & STURDY MEDIUM-WEIGHT PLASTIC CUTLERY: Made of the highest quality, durable plastic materials, the PAMI plastic forks, soup spoons, teaspoons and knives are strong and sturdy to use with all different types of food. Zero bending, breaking or other annoyances so you can enjoy even heavy or dense foods with utmost comfort. Ideal for any course, from salads and fruits to meat dishes, pasta and dessert.
BULK CUTLERY | UNBEATABLE VALUE – 400 PIECES PER BOX: To equip your home or any professional food service with all the plastic utensils you will ever need, each box contains a whopping of 400 pieces that are sure to last you for a long, long time. A smart, budget-friendly choice to serve a whole lot of guests at home or any professional setting. [4 types available: Forks, Soup Spoons, Teaspoons & Knives]
MINIMAL DESIGN & DISPOSABLE FOR HASSLE-FREE CLEANING: Featuring a well-made, elegant design and a timeless white color, our plastic silverware will blend seamlessly with your tableware to match the décor of any party or fancy dinner table. Plus, our 100% recyclable, disposable cutlery sets make the after-party clean up a breeze!
A TRUE PARTY STAPLE FOR HOME & COMMERCIAL USE: Update your home, party or catering supplies with the most practical, medium-weight 400-count plastic Fork/Spoon/Teaspoon/Knife set that can serve a whole lot of guests with just one pack. Perfect for home use, hosting big parties or gatherings, charity meals, food catering, to-go or takeout orders, food trucks, or any other professional setting.
BACKED UP BY PAMI'S SATISFACTION GUARANTEE: Focused on creating the highest quality disposable dinnerware and party supplies, each PAMI product is backed up by an Unconditional 30-Day Money-Back Satisfaction Guarantee. With nothing to worry about, you can order yours today completely risk-free!
model number: PAM-0700
Details: PAMI MEDIUM-WEIGHT PLASTIC CUTLERY – THE EASIEST WAY TO SERVE YOUR FAMILY, GUESTS OR CLIENTS AT HOME, OUTDOORS, AT YOUR F&B BUSINESS & BEYOND! No matter if you are often hosting your own house-parties, if you have a food-related business or if you enjoy the convenience of single-use utensils, PAMI has your back. Our sturdy cutlery packs are available in 3 different styles to best match your or your business's needs: - Plastic Forks - Plastic Knives - Plastic Soup Spoons - Plastic Teaspoons Serving a main course, pasta, noodle or meat dishes? Ice cream, cake and desserts? Refreshing salads and fruits? Just grab one of the options above and you are ready to go. And the best part? Disposable cutlery allows for quick, easy and effortless cleaning! BULK CUTLERY PACKS – SUITABLE FOR ENDLESS PRACTICAL USES FOR HOME & PROFESSIONAL SETTINGS. PERFECT FOR: - Daily Home Use & Parties - Big Gatherings & BBQs - Picnics & Camping - Weddings & Office Parties - Food Catering - Take Away Food Stands - Food Trucks & Food Festivals - Food Delivery Services - Food Charities …and any other commercial use! MEDIUM-WEIGHT PLASTIC SILVERWARE FOR MESS-FREE DINING Unlike flimsy disposable forks and spoons that make it impossible to enjoy your meal, the PAMI medium-weight plasticware sets are so sturdy and durable that can handle any type of food – even dense or heavier bites. BULK PLASTIC DISPOSABLE CUTLERY – 400 WELL-MADE, MINIMAL & WHITE DISPOSABLE PIECES PER BOX! Whether it's for home or commercial use, our amazing plastic silverware value packs will equip you with 400 pieces you can use for a long, long time. PAMI - YOUR ONE STOP SHOP FOR ALL THE SINGLE USE DINNERWARE & PARTY SUPPLIES YOU WILL EVER NEED. ORDER YOURS TODAY!
EAN: 0381416070017
Package Dimensions: 9.6 x 6.1 x 4.3 inches
Shipping times can vary depending on your location and the fulfillment center used. On average, shipping times range from 5-10 business days. Most cases are much faster depending on location from our warehouses.