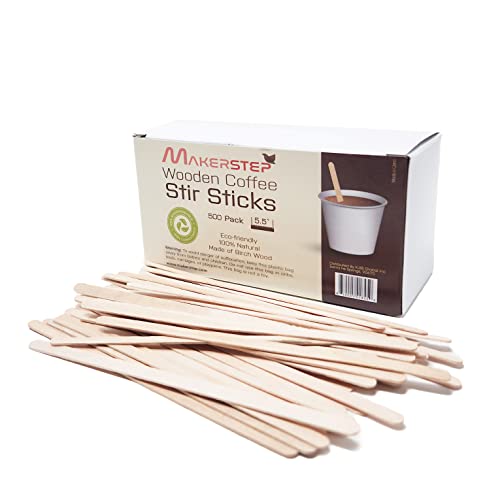 Brand: MakerstepFeatures: Natural Birch Wood Sir Stick with Storage Box for coffee, cocktails, tea, and all your favorite beverages. This is the big 500 pack of premium 5.5" stirrers that...
FREE
SHIPPING
100% MONEY
BACK GUARANTEE
ONLINE
SUPPORT 24/7
Brand: Makerstep
Features:
Natural Birch Wood Sir Stick with Storage Box for coffee, cocktails, tea, and all your favorite beverages. This is the big 500 pack of premium 5.5" stirrers that will keep you fully stocked for a long time. Just right for home or office. Supply your kitchen or coffee area with these for greater enjoyment and reliability. It also comes with convenience storage box.
Safe & Eco-Friendly with none of the harsh chemicals and impurities you get in plastics. This is genuine 100% birch wood that is a plentiful renewable resource. It's healthy and safe for children, adults, and pets. Use with confidence. Recommended by professional chefs and baristas everywhere.
Highest Quality with smooth surfaces and no splinters. Also note the rounded edges. They feel pleasant to mouth and lips while never damaging cups or flavoring drinks. Wood is natural and does not provide a plastic taste other stirrers sometimes add. These are fully disposable, and will not add lasting material to landfills.
Multi-Purpose Versatile With Lots of Uses. While these are excellent coffee stir sticks, they're also great for making your own popsicles, and also work well for mixing cocktails along with creating arts and crafts. Many homes and schools have children glue these to paper and cardboard for imaginative art projects. This big 1,0000 count box gives you all you need to have on hand for every purpose.
Nice for anyone who enjoys coffee or appreciates a premium stir stick. The smooth, splinter free birch wood is a step up from plastic and cheap wood sticks. Many people are stocking up with several boxes. Get yours now while we have this popular item in plentiful supply.
Details: Premium Wood Coffee Stir Sticks in the big bulk 500 pack. These are popular 5.5" sticks made of genuine birch wood. They are smooth with no splinters. And the rounded ends feel nice in hand and mouth. They're made of natural bio-degradable, eco-friendly wood. It's safe with no harsh chemicals, additives, or impurities. They will not add unnatural flavor to your coffee, tea, cocktail, or other beverage. These make a convenient addition to your kitchen, coffee nook, or office break room. Featured in many businesses and coffee houses. Customers always appreciate the higher quality. Many use these for arts and crafts. When done, sticks can be thrown away for a natural disposable choice that won't burden landfills. Product Feature: Wood Coffee Stir Sticks Made of genuine birch wood Big bulk 500 pack Popular 5.5" length Smooth with rounded edge No splinter design Great for cocktails, tea, arts & crafts Higher quality for kitchen, coffee nook, office, customer areas Packed in protective plastic in white wooden box 100% Satisfaction Guarantee ensures this will be your best bet for a pleasing no-risk purchase. Many customers love these sticks so much they return to buy another box. Get yours now while we have a fresh shipment in stock.
EAN: 0850005418450
Package Dimensions: 5.7 x 2.9 x 2.2 inches
Shipping times can vary depending on your location and the fulfillment center used. On average, shipping times range from 5-10 business days. Most cases are much faster depending on location from our warehouses.