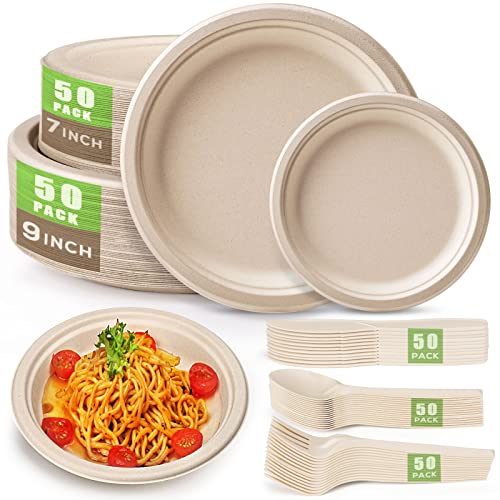 Brand: GezondColor: Brown 250 Plates SetFeatures: 🌳Natural Material: The plates are made entirely from sugarcane fibers and the cutlery is plant-based and eco-friendly, made from cornstarch that can dissolve in...
FREE
SHIPPING
100% MONEY
BACK GUARANTEE
ONLINE
SUPPORT 24/7
Brand: Gezond
Color: Brown 250 Plates Set
Features:
🌳Natural Material: The plates are made entirely from sugarcane fibers and the cutlery is plant-based and eco-friendly, made from cornstarch that can dissolve in the environment
🌳50 Sets: The set includes 250 compostable items, including dinner plates, cake plates, forks, knives and spoons. These items are perfect for serving your family or guests, and you can rest assured that they won't harm the environment
🌳Microwave and Freezer Safe: These heavy-duty paper plates are microwave-safe and can withstand temperatures up to 248°F without deforming. They are also oil-resistant and leakproof. The cutlery can easily cut through steak, vegetables, and fruits
🌳Safe to Use: Our compostable plates and cutlery meet food surface contact safety standards and are BPA-free. They have no wax lining and are non-toxic, so you can feel confident that you are using safe and harmless products
🌳Occasions: These biodegradable plates and utensils are perfect for a variety of occasions, including family meals, weddings, Christmas parties, birthdays, picnics, camping trips, and other special events. With this set, you can free yourself from the burden of dishwashing
Binding: Kitchen
model number: LH-CP-250-Natural-CA
Part Number: LH-CP-250-Natural
Details: Gezond Disposable Paper Dinnerware Set, Born to Bring You a More Convenient Life. -Are you tired of too much dishwashing duty when you have a party or special event that has to serve many people? -Are you worried about not having enough plates for guests? Now, go with these disposable eco-friendly plates and cutlery, no more worries. Just enjoy your happy time Why you choose us As a perfect alternative to traditional disposable material. Due to the no tree material used in disposable plates, more problems such as environmental pollution arise. However, all these can be solved by this kind of organic (sugarcane and cornstarch) material made dinnerware. Especially perfect for big family meals or special events and banquets. Save clean-up time, release your hands and can spend more time with your family & friends. Friendly to hot and cold food These paper plates have been tested and can be used in microwave ovens at 248°F and frozen at -4°F. You can just use it as your daily kitchen dinnerware which besides has no dish-washing burden. Heavy-duty, durable and oil resistant Food-grade waterproof and oil resistant. High-tech processing, health, and hygiene, ease of use, ease of eating. The utensils are strong enough to cut steak. Disposable: Meets standards for food contact surfaces and OK-biobased standards for compostability. Disposable paper plates set can be used for industrial compost after use. No more worry about burdening our planet while using the disposable plates! Package includes: 50 x Disposable Dinner Plates 9-inch 50 x Disposable Cake Plates 7-inch 50 x Disposable Forks 7.0-inch 50 x Disposable Spoons 6.7-inch 50 x Disposable Knives 7.3-inch
EAN: 0796816039029
Package Dimensions: 9.2 x 9.1 x 7.2 inches
Shipping times can vary depending on your location and the fulfillment center used. On average, shipping times range from 5-10 business days. Most cases are much faster depending on location from our warehouses.