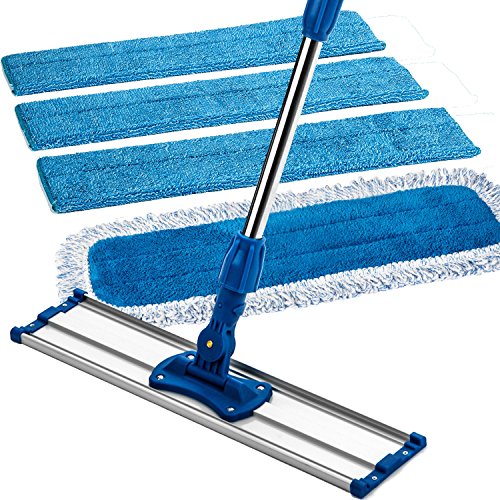 Brand: Zflow VenturesColor: BlueFeatures: REMOVES 99% OF BACTERIA. Put the buckets, sponges, and cotton down. Microfiber is a dirt magnet. No really, microfiber is positively charged and dirt holds a...
FREE
SHIPPING
100% MONEY
BACK GUARANTEE
ONLINE
SUPPORT 24/7
Brand: Zflow Ventures
Color: Blue
Features:
REMOVES 99% OF BACTERIA. Put the buckets, sponges, and cotton down. Microfiber is a dirt magnet. No really, microfiber is positively charged and dirt holds a negative charge. You really are pulling bacteria and spores off of your floor. Hospital studies have shown microfiber cleaned as well as cotton with a chemical disinfectant. Clean your environment and save ours with the natural clinging power of Zflow's Microfiber Dust Mop.
EVERYTHING YOU NEED IN ONE BUNDLE: (3) Microfiber Pads, (1) Dust Pad, Adjustable Stainless Steel Handle 6ft-4ft, Durable Aluminum Mop Head / Frame. This mop can clean every type of floor, including: laminate, tile, pergo, wood / hardwood, and any other floor type. For additional or replacement matching microfiber mop pads search B01IAUKS62, for matching dust pads search B01IAVCEHC.
WASHABLE PADS CAN BE WASHED HUNDREDS OF TIMES. Don't waist money on cheap disposable pads. These high quality pads can absorb up to seven times their weight in water. How you may ask? These microfiber pads have the surface area of a cotton pad four times its size. That's a lot of dirt cleaning power! Square design allows for reaching those hard to clean corners. Wrap-around face allows you to clean up to the very edge of the microfiber pad. Perfect for cleaning the bottoms of baseboards.
A SIMPLE QUICK AND EFFECTIVE WAY TO DEEP CLEAN THE FLOORS. Use the dry dust pad to clean up dirt, dust, and pet hair. Now use the wet microfiber pads to scrub up any dirt, germs, or grime. This is a deep clean that will leave your floors streak free and spotless!
HEAVY DUTY PROFESSIONAL MOP THAT WILL LAST A LIFETIME. We have designed and built these mops to last. We offer a 1 year money back guarantee! We truly believe that with this mop you will have a new, clean, fresh home, and life. Add to cart now and enjoy!
Binding: Kitchen
model number: MFM-1
Part Number: qavg-203
Details: This microfiber mop will make your house cleaner than you ever thought possible. Time to pull all the dirt, germs, bacteria, and grime off your floors.
A better design
The square shape of the cleaning pad will allow you to reach even corners without issue. Don't get out a cloth and bend down for the edges and corners! Use our mop instead! The fold over / wrap-around design allows you to clean all the way to the edge of the pad. Dust and dirt are always the worst at the edge of a room. This mop will allow you to completely clean the floor. Lightweight strong handle and mop head allow you to easily clean the walls, ceiling, and floors. Get those pesky cob webs while using the dust mop. Extendable handle allows you to adjust the length as needed. From 4ft to 6ft with just a twist.
A better value
The 3 pack of replacement pads allows you to buy 2 and get one free. Compare it with other offers from Bona, Rubbermaid, ecloth, zwipes, Microfiber Wholesale, Oceder, Norwex and many more.
Easy and quick
The easy velcro backing allows you to just set the pad on the floor and place your mop directly on top. No need to get the buckets and sponges. Done cleaning that fast..? Just wash the pad in the sink or place in your washing machine. Job done!
EAN: 0647567792162
Package Dimensions: 40.8 x 7.0 x 3.0 inches
Shipping times can vary depending on your location and the fulfillment center used. On average, shipping times range from 5-10 business days. Most cases are much faster depending on location from our warehouses.