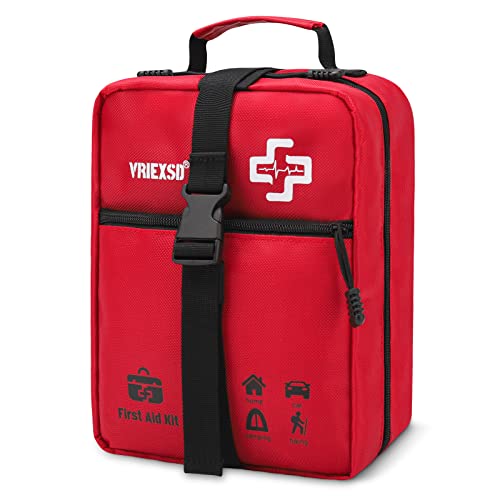 Brand: VriexsdColor: RedFeatures: ESSENTIALS FOR EMERGENCY - This first aid kit contains total 400 pieces first aid supplies which can be applied to handle your emergency situations during normal life,...
FREE
SHIPPING
100% MONEY
BACK GUARANTEE
ONLINE
SUPPORT 24/7
Brand: Vriexsd
Color: Red
Features:
ESSENTIALS FOR EMERGENCY - This first aid kit contains total 400 pieces first aid supplies which can be applied to handle your emergency situations during normal life, for example you can use the essentials from the emergency bag to care for minor scrapes, burns, wounds etc. There are adhesive bandages, tourniquet, bandages, emergency blanket, burn gel pack, first aid guide, etc. in the emergency bag, with such items you can get ready for unknown situations better.
WITH DIVIDED COMPARTMENT - This emergency kit bag uses smart classification with label, we've separated the whole emergency bag into small independent compartments, which is clear and concise, so that you can find the first aid item you need in case of emergency situation. The orderly first aid box helps to ensure your wounds to be treated as soon as possible.
PORTABLE DESIGN - This VRIEXSD first aid kit in the design of its size in order to allow users to carry it to get prepared for emergencies, so the compact size of 9.4*3.9*6.8 inches is the most suitable design. VRIEXSD first aid box weighs only 2.64 pounds and can be hung on your backpack or stored in your cars, trucks, jeep or other places in case of emergency.
PREMIUM MATERIAL - The medical kit bag is made of high-quality material, which is durable and sturdy. The 600D polyester fabric is with great waterproof ability, you don't need to worry about the emergency accessories in the first aid kits being affected by water even in the rain or wind, the water-resistance design of the emergency kit makes this product ideal for extreme adventure activities.
FOR EMERGENCY SITUATIONS - You can store this kind of premium first aid box in your home, office, classroom and so on, can be used for families, disaster preparedness. This type of first aid kit is perfect for people who love hiking, camping and other outdoor activities, ideal for care during sports or leisure to meet any emergency needs. You can also choose this product for your family and friends.
Details: VRIEXSD first aid kit can help you for family, business emergency situations, care more for your lovers, parents, kids, friends and other people who you care. VRIEXSD aims to provide high-quality outdoor products for everyone who needs it. ABOUT VRIEXSD FIRST AID KIT One Kit for Whole Family Members The whole set is with 400 pieces emergency supplies for you to use when in emergency situations, which is enough to meet the using needs of you and your family members. Through One Look to Pick Out The Thing You Need The inside of the emergency bag is divided in compartments and with labels so that you can pick out the emergency essentials you need quickly and precisely to treat your wounds. Portable Design The compact size of this first aid kit allows it can be attached to your backpack, school bag, or simply put it in your home, office, classroom in case of emergency situations. Waterproof Fabric With the waterproof fabric of this first aid kit you can take it with you to enjoy hiking, camping, walking, biking and more other outdoor activities. Details: Fabric Material: 600D Polyester Material Size: 9.4*3.9*6.8 inches Weight: 2.64 lbs Special: Waterproof Fabric WHAT YOU GET: 40 x Adhesive Plastic Bandages 3/4"×3" 40 x Adhesive Plastic Bandages 1"×3" 40 x Adhesive Plastic Bandages 3/8" × 1-1/2" 5 x Wound Closure strip 1 x Triangular Bandage 40"×40"×56" 11 x Moleskin (Blister Prevention) 1 x 7 Days Pill Box 1 x Self Adhesive Bandage 1"×5yd 1 x Durable Compression Bandage/Elastic Bandage With Clips 3"×5yd 1 x Conforming Gauze Roll 2"×5yd 2 x First Aid Tape 1/2"×5yd 8 x Sterile Gauze Pads 2"×2" 1 x CPR Face Shield 1 x Metal Scissors 1 x First Aid Guide 1 x Durable First Aid Bag 244 x Other Emergency Essentials
Package Dimensions: 10.7 x 8.5 x 5.7 inches
Shipping times can vary depending on your location and the fulfillment center used. On average, shipping times range from 5-10 business days. Most cases are much faster depending on location from our warehouses.