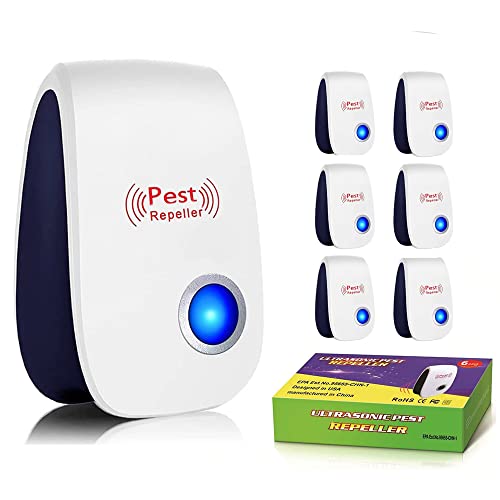 Brand: KAVNLONColor: WhiteFeatures: Easy to use: Pest repellent ultrasonic plug in a power outlet; The ultrasonic pest repeller start when the blue light turns on,Repel many kinds of pest Against...
FREE
SHIPPING
100% MONEY
BACK GUARANTEE
ONLINE
SUPPORT 24/7
Brand: KAVNLON
Color: White
Features:
Easy to use: Pest repellent ultrasonic plug in a power outlet; The ultrasonic pest repeller start when the blue light turns on,Repel many kinds of pest Against rodents, hamsters, mice, fleas, ants, mosquitoes, flies, spiders, cockroaches, bugs, rodents, and insects
Wide Effective Coverage Area: The insect repellent effective area can be up to 1600 SQ; Please put a single mouse repellent in each room because the ultrasonic waves cannot penetrate walls and solid objects, 6-12 units are enough to repel pest control in the house (depending on the severity of pest infestation)
Quiet and effective: Ultrasonic pest repeller work with low frequency ultrasonic waves, which are difficult for humans to hear. But it is very effective for rodents and pests, ultrasonic waves let them leave your home quickly!
The principle of Ultrasonic Pest Repeller : Through low-frequency ultrasonic waves, the brain and auditory nervous system of mice and pests are stimulated, to expel most types of pests effectively
Less power consumption: keep you away from cleaning up dead pests, odor and corpses of plug in pest control, no batteries, saving a lot of money.
Binding: Electronics
model number: u-3c-12517
Details: Our Ultrasonic Pest Repellent will help drive mice, rats, roaches, ants, bugs,spiders, mosquitoes, rodents, flies, fleas, and other pests out of yourhouse. √ Week 1:quick impact & run away from shelter √ Week 2:non-immune & nervous system damaged √ Week 3-4:intolerable & flee from home forever (PS: It'snormal that the mouse and vermin will increase in the beginning because theyare getting away from the living place after the attack of the ultrasonic.Mosquito repellent Typical results can take 2-3 weeks depending on the severity of pestinfestation. ) Features: ★Designed with dual intelligent chip, our pest repellent utilizes ultrasonic waves with frequency varying from 24 kHz to 100 kHz toirritate auditory nerves, destroy sense of smell and ruin central nervous systemsof pests and rodents. ★Ultrasonic Mosquito repellent The wave frequency keeps changing automatically andtroubles pests a lot to generate inertia or adaptability. Pest repellent works for a longtime and keeps you away from the torment coming from pests. ★No need in manually trying to get rid of pesky insectsand rodents, just let our Ultrasonic Pest Repeller do the labor for you! ★To achieve a better effect, it would be better to placeone device each room pest control. ★Night light Feature: pest control provides a soft glow ★100% satisfaction with a 30 day money back guarantee! Iffor any reason you are not satisfied with our pest control, please do not hesitateto contact us. We will take full responsibility and provide you with satisfyingsolution! KAVNLON
EAN: 0706952917648
Package Dimensions: 9.0 x 3.9 x 2.5 inches
Shipping times can vary depending on your location and the fulfillment center used. On average, shipping times range from 5-10 business days. Most cases are much faster depending on location from our warehouses.