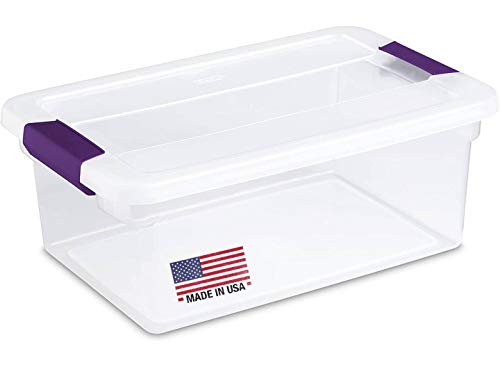 Brand: TribelloColor: whiteFeatures: CLEAR STORAGE BINS WITH LIDS - Say Goodbye to clutter with these storage boxes. Theyre perfect for storing toys, arts and crafts materials, trinkets, utensils, as well...
FREE
SHIPPING
100% MONEY
BACK GUARANTEE
ONLINE
SUPPORT 24/7
Brand: Tribello
Color: white
Features:
CLEAR STORAGE BINS WITH LIDS - Say Goodbye to clutter with these storage boxes. Theyre perfect for storing toys, arts and crafts materials, trinkets, utensils, as well as school and office supplies.
PLASTIC TOTES WITH LIDS FOR STORAGE - The clear plastic containers and lids allow you to quickly and easily determine whats inside. No need to unstack the boxes and open them to find what youre looking for.
STORAGE BINS WITH LIDS FOR ORGANIZING - The specially designed lids let you to stack these organizer boxes on top of each other. The lids also help keep them stable and prevent them from toppling over.
PLASTIC BINS FOR STORAGE WITH LIDS - Crafted using high-quality plastic materials and manufactured in line with industry standards, these sturdy storage boxes are hardwearing and wont easily crack or break.
15 QT STORAGE CONTAINER WITH LID - This 17x11-18x6-12 box has sturdy buckle latches that lock the lid securely into place. They wont pop open even when the boxes are accidentally dropped.
Binding: Tools & Home Improvement
Details: Description Need help keeping your living or working spaces neat and organized? Clutter is more than just an eyesore; it can also have a negative impact on our mental well-being. Think increased stress levels, lower productivity, and difficulty focusing. Plus, mess makes it challenging to find stuff we need, and may even pose safety hazards, especially around kids and pets. Staying organized keeps your space safe, clean, efficient, and nice to look at. To kickstart your efforts for a tidier home, you're going to need storage containers you can count on. These Clear Plastic Storage Bins with Lids from Tribello presents a reliable and space-efficient way of organizing your items. Using these boxes does not just help you stay organized. It also helps protect your valuables from dirt, dust, and curious kids and pets. Store away cosmetics, art supplies, and kitchen accessories and clear your tables and counters of clutter. Categorizing items by box helps prevent mix-ups and makes it much easier to find exactly what you're looking for. And because of the clear plastic material, you can see right away what's inside every box. Now you won't need to upend containers just to find that one pair of scissors that you need. These storage boxes are stackable, which lets you maximize your cabinet or closet space. The lids have channels or grooves that help keep the box placed on top of them snug and stable. And because the containers made with durable materials, they can hold a considerable amount of weight without breaking. Here are more details about our clear storage boxes: - Modern and stylish design - Lightweight, easy to move around - Available in 6-quart and 15-quart variants - Made in the USA Keep your space neat and tidy and your valuables safe. Add the Tribello Clear Plastic Storage Bins with Lids to your cart TODAY!
Package Dimensions: 16.9 x 10.9 x 6.4 inches
Shipping times can vary depending on your location and the fulfillment center used. On average, shipping times range from 5-10 business days. Most cases are much faster depending on location from our warehouses.