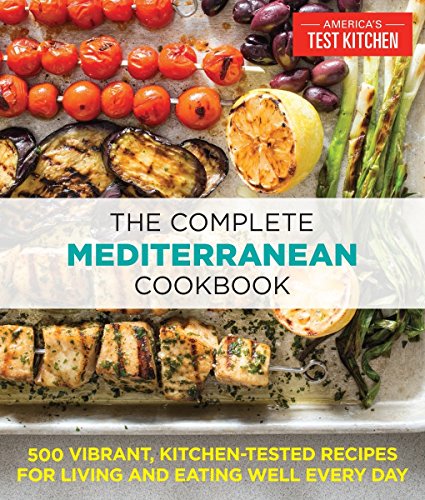 Author: America's Test KitchenBrand: America's Test KitchenColor: MulticolorEdition: 1Binding: PaperbackNumber Of Pages: 440Release Date: 27-12-2016Part Number: 9781940352640Details: The #1 best-selling modern classic—America's Test Kitchen's indispensable guide to the life-changing Mediterranean...
FREE
SHIPPING
100% MONEY
BACK GUARANTEE
ONLINE
SUPPORT 24/7
Author: America's Test Kitchen
Brand: America's Test Kitchen
Color: Multicolor
Edition: 1
Binding: Paperback
Number Of Pages: 440
Release Date: 27-12-2016
Part Number: 9781940352640
Details: The #1 best-selling modern classic—America's Test Kitchen's indispensable guide to the life-changing Mediterranean diet, with more than 600,000 copies sold The famed Mediterranean diet is more than just a regional cuisine, it's food at its best: the variety of bright flavors and tastes, the health benefits, and the simple, uncomplicated dishes. America's Test Kitchen makes it easy to eat healthy, with over 500 kitchen-tested recipes from across the Mediterranean. Inside: Beyond Greece & Italy: You'll find a deeper variety of dishes from countries all around the Mediterranean Sea, including Turkey, Lebanon, Egypt, and Morocco Build Your Plate, Mediterranean Style: Learn to build meals that put the focus on the healthiest food first. You'll find large, plant-forward chapters devoted to Beans and to Vegetables, and more space is devoted to Seafood than to Poultry and Meat Mediterranean Mainstays: Detailed information on wholesome ingredients found in every supermarket is included throughout the book, from olive oil to whole grains, spice blends, plus a variety of seafood. Guides to meal planning, entertaining, and pantry building are also included Quick & Healthy: Many recipes are ready in 45 minutes or less—perfect for busy weeknights Nutrition First: Not only does every recipe have nutritional guidelines, but we also set specific nutritional goals (e.g. every fish recipe is less than 750 calories, with fewer than 8.5g of saturated fat) Need a house-warming gift? Get The Complete Mediterranean Cookbook Gift Edition, in a gorgeous keepsake hardcover edition Love your Instant Pot? Check out ATK's Mediterranean Instant Pot Want to build your repertoire even further? Try More Mediterranean: 225+ New Plant-Forward Recipes Endless Inspiration for Eating Well
EAN: 9781940352640
Package Dimensions: 10.0 x 8.5 x 1.1 inches
Languages: English
Shipping times can vary depending on your location and the fulfillment center used. On average, shipping times range from 5-10 business days. Most cases are much faster depending on location from our warehouses.