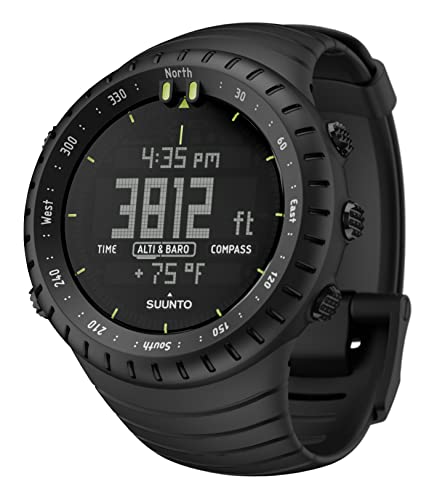 Brand: SUUNTOColor: All BlackFeatures: Suunto Core: This classic outdoor sports watch is packed with intelligent features like a Storm Alarm, Altimeter, Barometer and compass to keep you informed of conditions...
FREE
SHIPPING
100% MONEY
BACK GUARANTEE
ONLINE
SUPPORT 24/7
Brand: SUUNTO
Color: All Black
Features:
Suunto Core: This classic outdoor sports watch is packed with intelligent features like a Storm Alarm, Altimeter, Barometer and compass to keep you informed of conditions while you hike, bike, or camp
Essential for Adventure: This watch has dual times, date display, and alarm, plus predicted times for sunrise and sunset to help maximize your daylight hours and a depth meter accurate up to 30 feet
Suunto Sports Watches: Versatile and durable, Suunto sports watches are great for running, swimming, cycling, gym workouts, hiking, and other outdoor sports; Whatever your needs, Suunto has a watch for you
Adventure Starts Here: Combining Scandinavian design with ultra durable materials, our watches track your sports, daily activity, and sleep to help you keep life, training and recovery in balance
Authentic Heritage: Founded in 1936, Suunto brings over 80 years of high quality heritage craftsmanship, relentless accuracy, and pioneering innovation to our watches, compasses, and dive products
Binding: Sports
Release Date: 17-09-2008
model number: SS014279010
Part Number: SS014279010
Details: Amazon.com Building on the success of the venerable Suunto Vector, the Suunto Core keeps you informed of conditions while you hike, bike, or camp, making it a terrific companion for outdoor enthusiasts of all stripes. What can the Suunto Core do for you? For starters, it can sense an approaching squall even when the sky looks clear. This intelligent Storm Alarm--one of several intelligent features designed to keep you safe and secure--is activated by a rapid drop in air pressure over a three-hour period. Once the Core senses the change, the Storm Alarm sounds and flashes, letting you know that something unpleasant is fast approaching. The built-in altimeter, meanwhile, displays your current elevation, shows how much you've climbed or descended, and records your entire session for later analysis. Accurate to within 30,000 feet, the altimeter is an extremely valuable tool for mountaineering, backcountry skiing, and wilderness travel. Add in such additional features as a barometer, a digital thermometer, a weather trend indicator, and a digital compass and you have a terrific wrist-top computer for almost all your outdoor needs. The altimeter contributes to your excursion in several ways. If you're standing on or near an obvious geographic feature, such as a ridge, trail, or creek, the altimeter can alert you to your current elevation and help you find your position on a topographic map. Similarly, if you plan on climbing a slope to a certain elevation and then traversing, the Core can help you stay on course. And as a bonus, the Suunto Core includes a unique start-from-zero function, so you don't have to enter a reference altitude. Instead, with the single push of a button, the altimeter will begin tracking your ascent and descent. The Core also includes a barometer, which measures and records air pressure to help you predict changing conditions--from sunny skies to hair-bending electrical storms. The barometer helps you decide whether to bring a soft shell or rain shell jacket when the skies look ominous, or even when to high-tail it back to the car. In general, low pressure brings inclement weather, while high pressure brings stability and clear skies. If you've arrived at camp and notice the pressure starting to plunge, it's probably a good idea to secure the tent and crawl in. Likewise, if you were on a climb, it would be prudent to find shelter and retreat. Even at home, the Suunto Core barometer can look beyond office walls, skyscrapers, and nearby hills to help you plan for upcoming activities. If you want a weather forecast that extends out a few hours, you can turn to the built-in weather trend indicator. The indicator shows the barometric history for the last three and six hours, helping you predict the weather with amazing accuracy. What's more, the watch doesn't give you a regional forecast posted earlier in the day, but rather the most current information about the weather directly overhead. And no outdoor watch is worth its salt without a digital compass, a great tool for keeping track of your direction while skiing, hiking, or exploring a new city. You can set and follow a bearing with a traditional rotating bezel, or simply point the top of the watch toward your intended destination and lock it in. Additional features include several traditional watch functions, including dual times, a date display, and an alarm; predicted times for sunrise and sunset to help you maximize your daylight hours; an automatic Alti/Baro mode that senses movement or lack thereof and switches between the altimeter and barometer accordingly; a depth meter that provides accurate water depth readings to 30 feet; and the ability to function in English, German, French, and Spanish. Available in such colors as all black, aluminum black, light black, black orange, aluminum brown, light green, black yellow, and steel , the Suunto Core carries a two-year warranty. Specifications: The Suunto Core watch includes an altimeter, barometer, compass,
EAN: 0045235900657
Package Dimensions: 5.0 x 3.7 x 3.6 inches
Languages: German, English, Spanish
Shipping times can vary depending on your location and the fulfillment center used. On average, shipping times range from 5-10 business days. Most cases are much faster depending on location from our warehouses.