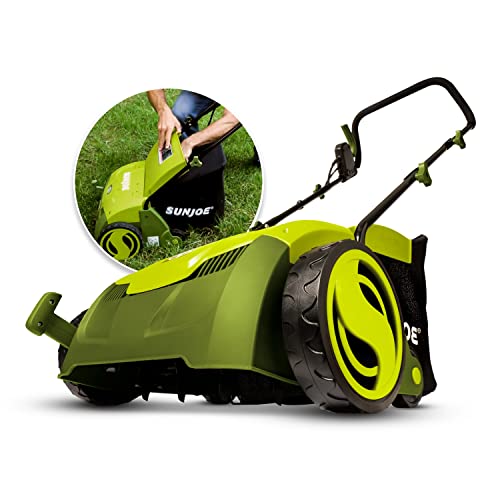 Brand: Sun JoeColor: GreenFeatures: [POWERFUL]: 12-amp motor rakes a 13" wide path to get your job done faster.No Load Speed (rpm) : 2990, Length of Cord (ft.) : 1, Terrain...
FREE
SHIPPING
100% MONEY
BACK GUARANTEE
ONLINE
SUPPORT 24/7
Brand: Sun Joe
Color: Green
Features:
[POWERFUL]: 12-amp motor rakes a 13" wide path to get your job done faster.No Load Speed (rpm) : 2990, Length of Cord (ft.) : 1, Terrain : Flat..Dethatcher Cylinder : 24 spring steel raking tines (0.5 mm thick). Scarifier Cylinder : 20 slicing blades
[ADJUSTABLE DECK]: Tailor raking depth with 5-position depth control
[SCARIFIED]: Use the Scarified function to cut grass roots for thicker growth, healthier lawns
[AIR BOOST TECHNOLOGY]: Spring steel tines for maximum thatch pickup
[INCLUDED]: Detachable thatch collection bag for easy disposal
[SIZE OF YARD]: 1/4 - 1/2 Acre
Binding: Lawn & Patio
model number: AJ801E
Part Number: AJ801E
Details: LET YOUR LAWN BREATHE. Get your lawn in top green shape with the Sun Joe Dethatcher Joe AJ801E 12.6-inch electric scarifier + lawn dethatcher. Powered by a robust 12-amp motor, the Dethatcher Joe rakes a 12.6-inch wide path in a single pass to get your job done fast. Enhancing its raking ability is Airboost technology, which maximizes thatch pickup with spring steel tines that stay sharp longer for reliable performance. Use the 5-position depth control knob to tailor the raking depth from -0.4 in. (10 mm below the soil) to 0.4 in. (10 mm above the soil), depending on your lawn's scarifying or dethatching needs. Scarifying your lawn at regular intervals cuts grass roots and encourages growth for thicker, healthier turf. Thatch is a dense mat of roots, stems and grass clippings that accumulates on lawns over time, blocking the flow of water, oxygen and vital nutrients. It is important to periodically remove thatch in order to keep your lawn green and healthy. While ordinary manual rakes are tiresome to use and not very effective, the electric Dethatcher Joe starts instantly with the push of a button and easily gets the job done without polluting the atmosphere with toxic carbon emissions. No gas, oil or tune-ups make the Sun Joe Dethatcher Joe your green choice for greening your lawn. ETL-approved. 2-year warranty.
EAN: 0826659053804
Package Dimensions: 25.0 x 20.0 x 12.8 inches
Shipping times can vary depending on your location and the fulfillment center used. On average, shipping times range from 5-10 business days. Most cases are much faster depending on location from our warehouses.