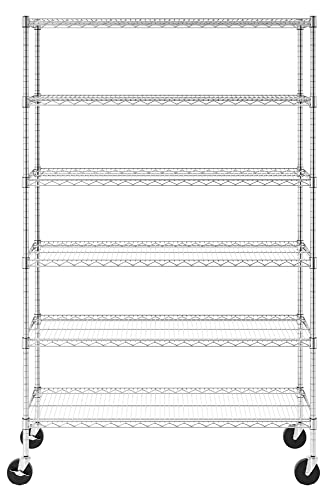 Brand: SafeRacksColor: ZincFeatures: LARGE STORAGE RACK SHELF: Being 48" wide by 18" deep by 72" high (76" when using included 4" casters) and having 6 levels of metal shelves, our...
FREE
SHIPPING
100% MONEY
BACK GUARANTEE
ONLINE
SUPPORT 24/7
Brand: SafeRacks
Color: Zinc
Features:
LARGE STORAGE RACK SHELF: Being 48" wide by 18" deep by 72" high (76" when using included 4" casters) and having 6 levels of metal shelves, our storage shelves give you ample storage space. Its open sides let you quickly access your items. With adjustable wire shelves, you can solve your shelving unit problems and eliminate clutter with a clean and organized look.
NSF-CERTIFIED UTILITY SHELF: Our NSF/ANSI Standard 2 compliant wire shelving unit is an ideal storage solution for heavy-duty commercial or home storage. This metal storage rack can be put in your kitchen, bathroom, living room, warehouse, office, industrial or commercial exhibition, hotel, supermarket, etc.
EASY ASSEMBLY: Our wire shelving comes with step-by-step assembly and adjustment instructions. Adjust shelf height by sliding the shelves atop the clips that secure them in place. For your safety, make sure the shelves and plastic sleeves are positioned so that shelf completely fits over and covers the plastic sleeves and the SafeRacks logo is upright.
STURDY: With our heavy-duty design, Saferacks has set the benchmark for durability, versatility, and quality. Each shelf is zinc plated helping with rust prevention allowing them to be used as pantry shelves, document storage, or even in moist areas. A heavy-duty shelving solution, these shelves are suitable in tough commercial settings, like restaurants or hotel kitchens, because it's easy to clean and keep even the heaviest items neat.
COMMERCIAL GRADE: Our shelving units and storage are designed with great purpose and functionality as heavy-duty shelving. Saferacks set the benchmark for versatility and quality. Our products' structural supports comply with the Shelving Manufacturer's Association guidelines for holding 450 pounds per rack. We provide aesthetically appealing powder-coated shelves to minimize wear and tear.
Binding: Kitchen
model number: WS-481872-ZW6
Part Number: WS-481872-ZW6
Details: SafeRacks Wire Shelving Storage Unit. Clean up your home or garage and get organized. This wire shelving measures at 18" x 48" x 72" giving any homeowner ample space to store and organize their tools, storage bins, sports equipment, and home goods. Constructed from high strength steel with industrial-strength zinc coating, these shelves can hold up to 500lbs. 3" wheels allow the unit to be easily moved even when fully loaded. Shelves can be adjusted in 1" increments or removed entirely to allow space for larger items.
EAN: 0608729528173
Package Dimensions: 49.0 x 18.7 x 10.2 inches
Shipping times can vary depending on your location and the fulfillment center used. On average, shipping times range from 5-10 business days. Most cases are much faster depending on location from our warehouses.