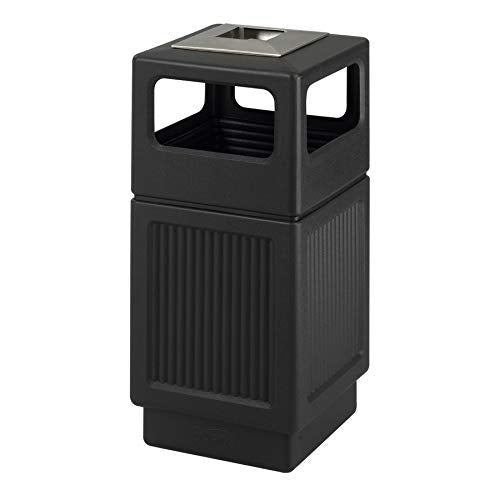 Brand: SafcoColor: BlackFeatures: BLENDS IN NATURALLY. Canmeleon Outdoor and Indoor Recessed Panel Trash Can with Ash Urn blends decorative fluted panels with a stainless steel ashtray to help enhance outdoor...
FREE
SHIPPING
100% MONEY
BACK GUARANTEE
ONLINE
SUPPORT 24/7
Brand: Safco
Color: Black
Features:
BLENDS IN NATURALLY. Canmeleon Outdoor and Indoor Recessed Panel Trash Can with Ash Urn blends decorative fluted panels with a stainless steel ashtray to help enhance outdoor areas while keeping them clean and litter free.
Outdoor and Indoor USE. Molded from high-density polyethylene with UV inhibitors, this waste container performs well in both outdoor and indoor conditions. Telescoping base hides liner bag and includes a recessed bottom for easy maintenance.
HANDS-FREE DISPOSAL. Covered dome features four 13"W x 6"H openings that let you discard waste without touching the lid, which may help reduce the spread of germs.
ANCHOR IN PLACE. For weather resistance and to prevent vandalism, the bottom of weather-resistant trash container can be fastened to the pavement or weighted with sand or paving bricks.
PRODUCT DIMENSIONS. Finished dimensions: 18.25"W x 18.25"D x 39.25"H. Weight: 17 lbs. Capacity: 38 gallons.
Binding: Office Product
Release Date: 14-04-2009
model number: 9477BL
Part Number: 9477BL
Details: From the Manufacturer Safco CanMeleon Receptacle, Ash and Trash Stainless Steel Ash Urn--no need for additional sand. Looking for an Ash and Trash receptacle for smokers that blend in with any environment? Choose Safco CanMeleon for a striking look. CanMeleon Ash and Trash receptacles with Stainless Steel Ash Urn molded into top of the receptacle lid are functional while adding beauty to your "first impression" areas. CanMeleon natural stone panels and pleasing lines complement every environment Ribbed telescoping base opening securely holds liner bag in place and tucked under the lid to avoid overhanging and unsightly bags. View larger. Recessed base with comfortable toe space makes floor cleaning easier. CanMeleon receptacles are the perfect blend of beauty and function and fit right into a lobby area, atrium, hallway, classroom, lounge area, or outside your business doors. You can place several receptacles in high-traffic areas such as the warehouse, mail room, receiving area, inspection areas, or assembly areas. Any style of Canmeleon receptacle is also great for public spaces like shopping mall entrance ways and for retail stores. Use the Canmeleon waste receptacles with Ash Urn for any smoking areas, outside business doors, or in other areas where smoking is allowed. The combination of Ash Urn and Trash Receptacle are ideal used near lunch or break areas. Designed to keep liner bags hidden from view Receptacles are molded from high-density polyethylene plastic with built-in UV inhibitors for indoor or outdoor serviceability. They come fully assembled and ready to use right out of the box. The telescoping base hides your liner bags and the base has an attractive recessed bottom design for ease of cleaning and comfortable toe space. The receptacles are easily adaptable for anchoring or weighting devices. Even more, their stone panels are smooth to touch with a clear coating to keep the aggregate securely adhered to the panels and resistant to being brushed off the container. The plastic bottom can be drilled to install your own hardware for fastening the receptacle to the pavement or walkway, or place a bag of sand or a paving brick underneath the liner bag to add weight for weather resistance or to prevent vandalism. The top-opening style features a 9-1/2-inch round opening. The 15- and 38-gallon-capacity bases use standard 32-by-44-inch trash bags. Choose from a Variety of Styles Style Item Color options Size options Panel options Open Top Black plastic or Tan plastic 38-gallon square; 30- or 45-gallon pentagon Stone aggregate or ribbed plastic Hooded Top with Side Opening Black plastic or Tan plastic 38 gallon Stone aggregate or ribbed plastic Ash Urn Top with Side Opening Black plastic or Tan plastic 38 gallon or 15 gallon Stone aggregate or ribbed plastic About Safco Safco products offer solid results for people and businesses; people who are different from one another, and businesses that are changing. That's why each Safco product is designed to fit the needs of individuals and the way they work by enhancing comfort and meeting the modern needs for organization in the workplace. At the same time, each product encourages work-area efficiency and ultimately work-life efficiency: from schools and universities, to hospitals and clinics, from small offices and businesses to corporations and large institutions, airports, restaurants, and malls. Safco continues to offer new colors, new styles, and new solutions according to market trends and the ever-changing needs of business life, from the front reception area all the way back to the warehouse. Product Description Canmeleon Recessed Panel, Ash Urn, Side Open, 38 Gallon
EAN: 0735559477248
Package Dimensions: 41.1 x 19.3 x 19.1 inches
Shipping times can vary depending on your location and the fulfillment center used. On average, shipping times range from 5-10 business days. Most cases are much faster depending on location from our warehouses.