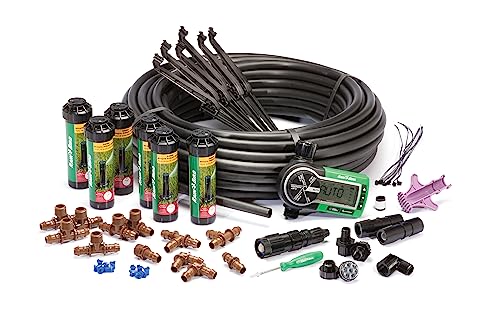 Brand: Rain BirdColor: BlackFeatures: Waters your lawn automatically the whole season Eliminates constant hassle of moving garden hoses and making sprinkler adjustments Attaches to an outside faucet and installs in...
FREE
SHIPPING
100% MONEY
BACK GUARANTEE
ONLINE
SUPPORT 24/7
Brand: Rain Bird
Color: Black
Features:
Waters your lawn automatically the whole season
Eliminates constant hassle of moving garden hoses and making sprinkler adjustments
Attaches to an outside faucet and installs in one afternoon
Sprinklers retract into lawn for a clean uncluttered appearance and easy mowing
Covers medium size lawn areas from 1000 to 3000 sq. ft. with average residential water pressure and flow of 45 to 75 psi
Operates at normal average residential water pressures of: 45 to 75 psi and 6 to 12 gallons per minute flow rate
Professional grade hose-end timer and dependable 32SA gear drive rotors
DON'T EXPAND SYSTEM: adding extra tubing or rotors can negatively impact performance = reduced spray distance, rotors won't pop-up or rotate
To ensure proper system operation watered area must be less than 6' above water source/hose bib
Installation tip: use a specialized trenching shovel to dig the 1/2" tubing trenches
Binding: Lawn & Patio
model number: 32ETI
Part Number: 32ETI
Details: Description Product Description If you are tired of hassling with hose and sprinklers, and getting poor results from manual watering, this new automatic system is a perfect solution. The first professional grade Rain Bird sprinkler system designed for homeowner installation, it provides everything you need to keep your lawn green season after season while saving water. The system attaches to any outside faucet and includes six high-efficiency rotary sprinklers with patented Rain Curtain nozzle technology. The same sprinklers used in professionally installed systems worldwide, these rugged sprinklers deliver a rotating curtain of water with large droplets that fall quickly to avoid windblown overspray and to cover evenly from head to perimeter for reduced overall watering time. Simple adjustments for spray rotation and distance help you keep the water on your lawn and off the house, sidewalk and driveway. Controlling the sprinklers is Rain Bird's heavy duty timer with large readout screen and simple scroll settings for automatic watering any days of the week and up to two times per day. Flexible scheduling allows customizing your settings for specific needs such as watering of slopes where two short cycles will allow the water to soak in better, avoiding runoff waste. The timer also features manual buttons for "Water Now" and "Cancel" watering without affecting the program. An illustrated manual shows the 5-step installation process as well as example sprinkler placements for different lawn areas. From the Manufacturer Rain Bird Corporation is a privately held company founded in 1933 during the agricultural boom in California. We're recognized as the #1 manufacturer and provider of irrigation products and services in the world. With sales offices around the globe; we offer over 4,000 water-saving irrigation products in more than 130 countries. Since the very beginning, Rain Bird has produced and offered the industry's broadest range of high-quality irrigation products for: farms, golf courses, sports arenas, commercial developments and homes. Over the past 80-years Rain Bird has received more than 450 patents worldwide. Including the first one for irrigation in 1935 on our original impact-drive sprinkler (U.S. Patent #1,997,901) which revolutionized agricultural food-production and ushered in a new era in irrigation worldwide. In 1990 this original impact sprinkler was designated a historic landmark by the American Society of Agricultural Engineers. Our products cover all aspects of irrigation…timers/controllers, pop-up rotary sprinklers, pop-up spray head sprinklers, sprinkler nozzles, irrigation valves, Drip irrigation, drainage and much more. These products have been chosen and installed worldwide in the largest and most prestigious projects for residential, commercial, agricultural and golf course irrigation. Rain Bird is committed to The Intelligent Use of Water™ extending beyond products to education, training and services for the industry and the community. Our legacy is to design and manufacture only products of the highest value and quality. We're grateful to have received numerous recognition awards from many of our valued partners. Rain Bird "The Intelligent Use of Water"
Package Dimensions: 19.8 x 19.6 x 6.5 inches
Languages: English
Shipping times can vary depending on your location and the fulfillment center used. On average, shipping times range from 5-10 business days. Most cases are much faster depending on location from our warehouses.