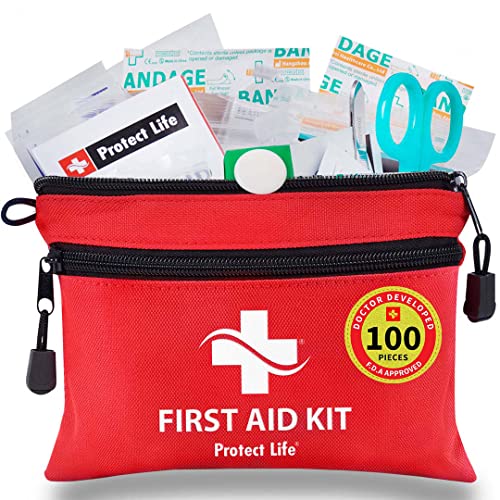 Brand: Protect LifeColor: 100 Pieces (First Aid Adventure Kit)Features: DESIGNED BY DOCTORS, EMTs & CPR INSTRUCTORS - Universal first aid kit for home or travel first aid kit for car....
FREE
SHIPPING
100% MONEY
BACK GUARANTEE
ONLINE
SUPPORT 24/7
Brand: Protect Life
Color: 100 Pieces (First Aid Adventure Kit)
Features:
DESIGNED BY DOCTORS, EMTs & CPR INSTRUCTORS - Universal first aid kit for home or travel first aid kit for car. Emergency kit/ tactical first aid medical kit packed full of first aid supplies. Take the first step to be prepared with our med kit
POCKET-SIZED & PORTABLE - Lightweight small first aid kit (7.5" x 5.2" x 1.5") compact safety kit that holds all emergency first aid kit, bag can be refilled & an ideal mini first aid kit for businesses. Our premium first aid kit, travel edition
WILDERNESS ADVENTURER KIT: Perfect backpacking first aid kit survival, first aid kit camping. Ideal for exploring kids first aid kit, or hiking first aid kit for backpack. Whatever adventures you embark upon take our tactical first aid kit
PREMIUM QUALITY MEDICAL SUPPLIES - Manufactured in a modern facility with the highest quality material. Whether its a car first aid kit, emergency kit for vehicles, your medicine cabinet or emergency kit for home - Protect Life will keep you safe.
PROTECT LIFE PROMISE - We care about keeping people safe with our 1st aid kit/small first aid kit for backpack. Should you have any issues with our home first aid kit/camping first aid kit contact us immediately and our medical team will be in touch.
Binding: Health and Beauty
Part Number: XM-jzfl912-2
Details: Do you know what to do in case of an emergency? Keep a First Aid Kit handy! This 100-piece kit contains all the necessary first aid items for treating minor injuries and accidents. The compact size makes it easy to carry around and store in your car, home or office. It has just the right pocket size so it fits anywhere you go. This small first aid kit is perfect for camping, hiking, and backpacking. It is equipped with everything you need to handle a variety of injuries, and it is durable and compact. This small first-aid kit that can handle most of your daily needs? You can use it as your travel first aid kit too! Look no further than this 100-piece kit by Protect Life. It's perfect for packing in your bug out bag, backpack, car glove box, and more. Withstand the toughest conditions with quality construction and contents that meet or exceed industry standards and if you're not completely satisfied with your purchase, don't worry - we've got you covered with our Satisfaction Guarantee.
EAN: 0766871567829
Package Dimensions: 7.2 x 5.0 x 2.3 inches
Shipping times can vary depending on your location and the fulfillment center used. On average, shipping times range from 5-10 business days. Most cases are much faster depending on location from our warehouses.