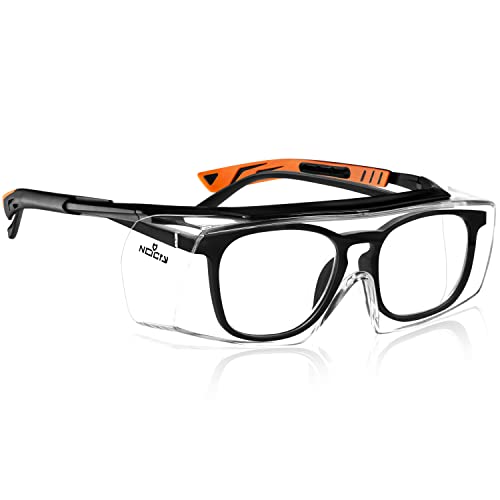 Brand: NoCryColor: Black & OrangeFeatures: EYE PROTECTION FOR WORKING PROFESSIONALS. Get ready for the ultimate dual protection. Protect your eyes from droplets, dust and flying particles. Keep your prescription glasses...
FREE
SHIPPING
100% MONEY
BACK GUARANTEE
ONLINE
SUPPORT 24/7
Brand: NoCry
Color: Black & Orange
Features:
EYE PROTECTION FOR WORKING PROFESSIONALS. Get ready for the ultimate dual protection. Protect your eyes from droplets, dust and flying particles. Keep your prescription glasses safe from scratches. How is this possible? These "over the glasses" safety glasses fit most standard frames — up to 5.6in wide, 1.3in high on the sides and 1.7in high at the center — protecting both.
STRONG, DURABLE WRAPAROUND DESIGN. The polycarbonate wraparound lenses protect you from the front and the sides. Here's the best part: the lenses have a clear UV 400nm scratch resistant coating. This means they block out 90-100% of harmful UV radiation without causing any optical distortion. They're durable too: ANSI Z87.1 and CSA Z94.3 safety certified, OSHA approved. ( Z87+ embossed on the frame).
COMFORTABLE AND DESIGNED FOR YOU. Wearing a pair of safety glasses that fit over your eyeglasses can be a hassle. That's why we added soft tips that eliminate pressure behind your ears and adjustable, extendable arms that help you get the fit just right. These thoughtful touches make this protective eyewear perfect for men, women, youth and anyone who wants to put the safety of their eyes and prescription glasses first.
VERSATILE WORK AND PLAY PROTECTION. Confidently wear these eye protection glasses at the shooting range (after double-checking the local safety requirements of course). Or put them on for woodworking, construction, chemistry or science lab work, doing yard work, using power tools, and doing dental work. In short, wear them anywhere you'd like to use PPE glasses. You can even wear them for extra eye protection during travel.
DON'T FORGET TO PROTECT YOUR PRESCRIPTION GLASSES. To avoid scratches, make sure that no part of your own prescription lenses are in direct contact with the protective lenses of the OTG safety glasses. (You can also wear these safety glasses on their own as oversized eye protection.) And —if you have any problems— get in touch. We offer hassle-free support and replacements.
model number: NCSOG-5X7-BO
Part Number: NCSOG-5X7-BO
Details: Technical specs Material: Latex free polycarbonate Lenses: Clear, with scratch resistant coating UV protection: 400nm (nanometers) PPE field of view: >40° Max temple arm length: 5" Max nose bridge diameter: 1" Total frame width across the front: 5.7" Max frame height: 1.77" in the center Weight: 0.083lbs Since these glasses are clear, how do they keep your eyes safe from UV light? The 400nm UV protective lens coating is the highest industry standard in clear PPE eyewear lenses. Shield your eyes from not only 90-100% of harmful UVA and UVB radiation rays, but also UV light emitted by artificial light sources. Safeguard this coating by cleaning the lenses with a microfiber cloth, and store in the NoCry protective case (sold separately). Avoid using rough cloths or household glass cleaner. How to reduce the chances of scratching your prescription glasses? Ensure no part of your eyewear lenses are in direct contact with the OTG glasses. There should be a gap between the lenses of your own glasses and the lenses of the OTG glasses. If you have thin frames, fully extend the adjustable arms of the over-spec glasses. The tops of the frames of the OTG's should be directly on top of and over the frames of your glasses - both pairs should feel secure and snug. Are they comfortable enough to wear all day? According to hundreds of customer reviews, these safety glasses are so comfortable you'll forget you're even wearing them. The unobstructive lightweight construction and the soft rubber nose piece mean they sit lightly on your face. They won't feel bulky or awkward even after hours and hours of work.
EAN: 4744452010502
Package Dimensions: 7.7 x 3.6 x 2.4 inches
Shipping times can vary depending on your location and the fulfillment center used. On average, shipping times range from 5-10 business days. Most cases are much faster depending on location from our warehouses.