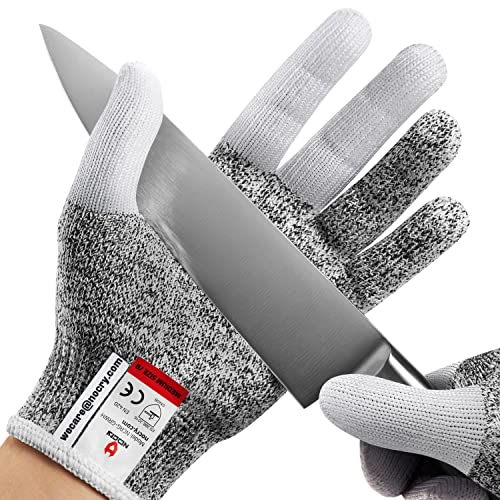 Brand: NoCryColor: White & GreyFeatures: BRAND NEW 3-FINGER REINFORCED DESIGN FOR EXTRA PROTECTION AND COMFORT. We reinforced the three fingers most vulnerable to cuts with stainless steel thread. It makes...
FREE
SHIPPING
100% MONEY
BACK GUARANTEE
ONLINE
SUPPORT 24/7
Brand: NoCry
Color: White & Grey
Features:
BRAND NEW 3-FINGER REINFORCED DESIGN FOR EXTRA PROTECTION AND COMFORT. We reinforced the three fingers most vulnerable to cuts with stainless steel thread. It makes that part of the gloves extra tough and durable. The rest is made of the cut resistant lightweight fabric you're used to. This keeps the gloves elastic and comfortable, while giving you topical extra protection where you need it most.
EN388 LEVEL 5 CUT RESISTANCE RATING. Enjoy the highest level of protection on the market. Our tight-knit, lightweight protective gloves are more than 4 times tougher than leather. Slip them on to protect your hands from nicks and cuts whenever you're about to use a knife, cutting or carving tools, a potato peeler, a mandoline slicer, or a straight razor.
PERFECT FOR MEN AND WOMEN AND AVAILABLE IN PLENTY OF SIZES. Forget about one size fits all work and safety gloves. Our cut resistant gloves come in 4 different sizes so that the fit is just right. Simply measure your palm diameter and the length of your middle finger and use the size chart to order the perfect-for-you fit.
FOOD SAFE SO YOU CAN USE THEM IN THE KITCHEN AND BEYOND. Protect your hands in the kitchen and slip these cut resistant gloves on before slicing meat, chopping vegetables, cooking, using a cheese grater, cleaning fish, carving a fillet, or shucking oysters. And they also double up as great protection for wood carving, whittling, woodworking and fishing.
MACHINE WASHABLE AND LONG LASTING. Your cut resistant gloves should make life easier. That's why we made cleaning your gloves a breeze. Done? Just throw them in the washing machine, on a cool cycle, with a mild detergent then let them drip dry.
model number: NC-CRG-RF-S
Part Number: NC-CRG-RF-S
Details: Get comfort and extra protection thanks to our unique reinforced design Can comfort and protection truly go hand in hand? We believe so! That's why we made the bulk of the gloves with 100% food-safe, ultra-high quality, molecular-weight polyethylene yarn mixed with spandex. This keeps them light, flexible and comfortable, giving you that second-skin feel. And, it offers great cut resistance. But we also reinforced the three fingers most vulnerable to cuts - the thumb, forefinger and middle finger - with stainless steel thread. And while stainless steel thread usually makes the material less elastic, focusing the thread on the most vulnerable parts of your hand keeps the gloves comfortable. This further increases the protection level and makes your gloves more durable too. 100% food safe cut-resistant gloves that feel like second skin Food preparation is precise, tricky work. You need to be able to hold meat, veggies and fruit in place without slipping and risking your fingers. These gloves help you do just that. The tight-knit mesh fits snugly against your skin so it feels like you aren't wearing anything at all. This way, you can pull off your best master chef impression without worrying about accidental cuts and scrapes. And, thanks to the ambidextrous design, you don't even have to worry about which gloves goes on which hand. Just slip these on whenever you're slicing and dicing fruit for breakfast, chopping veggies for lunch, or filleting fish or steak for dinner. Comfortable enough to wear for hours at a time as you carve your next masterpiece Whittling a new ball and chain design that needs hours of intricate knife work? Our super comfortable cut resistant gloves have you covered. These gloves may be strong and durable, but they're also extremely lightweight thanks to the mix of light, modern materials. This means you get the dexterity and freedom of
EAN: 4744452016788
Package Dimensions: 9.4 x 6.3 x 1.0 inches
Shipping times can vary depending on your location and the fulfillment center used. On average, shipping times range from 5-10 business days. Most cases are much faster depending on location from our warehouses.