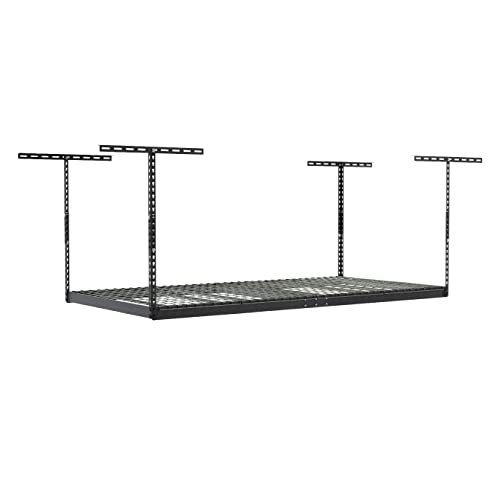 Brand: MonsterRAX Storage SolutionsColor: HammertoneFeatures: MORE STORAGE, LESS CLUTTER: Designed with your storage needs in mind, ceiling mounted overhead garage storage helps you get organized by getting your things off...
FREE
SHIPPING
100% MONEY
BACK GUARANTEE
ONLINE
SUPPORT 24/7
Brand: MonsterRAX Storage Solutions
Color: Hammertone
Features:
MORE STORAGE, LESS CLUTTER: Designed with your storage needs in mind, ceiling mounted overhead garage storage helps you get organized by getting your things off the floor and out of the way saving valuable space in your garage. This hanging storage system is a great space saver; allowing you to utilize previously unused space providing you more storage and better organization.
INDUSTRIAL STRENGTH RACKS: Our industrial strength garage ceiling storage rack is designed to hold up to 500 lbs and is perfect for storing bikes, construction tools, storage bins, holiday decorations, and other items and accessories. The powder coat finish provides a durable, scratch, water, and rust-resistant surface; while case-hardened hardware and our patented ceiling brackets provide additional strength and safety for this hanging shelf.
ADJUSTABLE HEIGHT: Convert the your room from a functionless to functional space no matter the size. Our ceiling organizer has an adjustable drop down letting you customize the distance between the shelf and ceiling from 24" to 45". This 4ft by 8 ft ceiling-mounted rack adds up to 120 cubic feet of storage. 
FUNCTIONAL ORGANIZATION: The durability, size, and capacity of our garage storage racks' allow you to use them in endless ways. Use them as a shelf for accessories, holiday storage, antiques in your basement or garage. Free up your room and floor from clutter and let our racks be the storage solution for your home 
YOUR SPACE CLEARING SOLUTION: MonsterRAX Storage Solutions is a U.S. Veteran owned company with the perfect storage solutions to help you get organized and take advantage of unused space in your garage or home. 
Binding: Kitchen
model number: MR-4x8-H Pack 24
Part Number: MR-4x8-H Pack 24
Details: MonsterRAX 4" x 8" Overhead Garage Storage Rack is designed to help you maximize wasted floor space in your garage. Our patented design is engineered from industrial grade steel complete with a durable powder coat finish that boasts a 500 lbs. weight capacity and backed by a limited lifetime warranty. Includes step-by-step instructions included with an available support staff for all your questions. Customize the ceiling drop-down distance from the ceiling by selecting one of the applicable sizes: 12" - 21" / 18" - 33" / 24" - 45" INDUSTRY WARNING: 500 Pounds is the maximum your garage ceiling can withstand. MonsterRAX is engineered at well over 1,500 pound breaking strength. Consult with a home-builder if you have metal joists or i-beams before buying. Additional work maybe required to easily install any overhead garage rack. Never load any rack to more than the advertised weight capacity that is mentioned inside the packaging; or you risk serious damage to your home, life and personal property. SHIPPING & PROCESSING: All products are shipped via FedEx Home Delivery, Tuesday thru Saturday. Please allow 3-4 business days to process your order prior to shipping. This product ships in two boxes, please allow 1-2 days between deliveries, as they will sometimes get separated during transit. If after this time you still have not received both boxes, do not hesitate to reach us through Amazon. REFUND / RETURN POLICY: If you purchase a product where the cost of shipping is included in the purchase price (i.e. Free Shipping) and you subsequently return the product, we will refund your payment less the cost of outbound shipping. Customers are responsible for all outbound and return shipping costs. LIMITED LIFETIME WARRANTY: Purchases made directly from MonsterRAX or through authorized resellers include a complementary Limited Lifetime Warranty.
EAN: 0850032439053
Shipping times can vary depending on your location and the fulfillment center used. On average, shipping times range from 5-10 business days. Most cases are much faster depending on location from our warehouses.