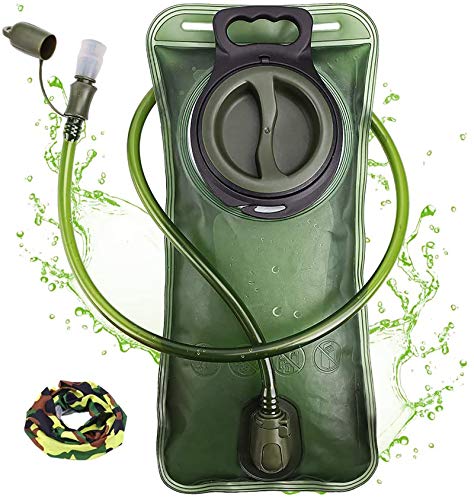 Brand: CHERAINTIColor: 2L - Military Green Water BladderFeatures: LARGE OPENING FOR EASY CLEANING – CHERAINTI 2l hydration bladder has one of large opening, and the big opening makes for easy...
FREE
SHIPPING
100% MONEY
BACK GUARANTEE
ONLINE
SUPPORT 24/7
Brand: CHERAINTI
Color: 2L - Military Green Water Bladder
Features:
LARGE OPENING FOR EASY CLEANING – CHERAINTI 2l hydration bladder has one of large opening, and the big opening makes for easy pouring of water. It is also fairly wide for a hand or bottle brush easily access to the interior water bladder for hiking backpack. The screw on cap goes on and off easily. For cold water, simply add ice cubes directly from a scoop or refrigerator ice dispenser. The smooth inner of water reservoir promotes health and is easy to clean.
PREMIUM QUALITY – The whole hydration bladder is made of premium material. CHERAINTI water reservoir is taste free, SGS certified and food grade. This tested to comply with international safety standards. It won't leave a bad taste in your drink. The water bladder 2l passed pneumatic pressure test, it is pressure-tolerant. Double sealing side technique has greatly improved durability hydration pack bladder.
REMAIN PEFECTLY HYDRATED – This hydration bladder 2L can withstand temperatures from 20 to 50 degrees Celsius. The tube resists temperature changes in hot and cold weathers. L 14.2'' x W 6.8'' water bladder is compatible with most hydration pack. The tube, 0.4" diameter and 40" long, provides a wholesome flow for easy drinking, keeping you hydrated when Camping, biking, cycling, hiking, or running!
WELL-SEALING WATER BLADDER – You won't be slowed down with our high flow bite-valve. Simply bite the mouthpiece to suck water. Soft mouthpiece with easily accessible ON/OFF valve. It also has a cover to keep dirt out. Conveniently control the water flow by biting. Quick-release tube is detachable. While the tube is removed, the connnector automatically shut off and the hydration bladder will stay filled. Store neatly in fridge/icebox without tangling hose.
QUICK AFTER-SALES SERVICE - Quality is our top priority, we take all customer's satisfaction very seriously. ANY reason, if our water bladder for hiking backpack don't live up to your expectations, please feel free to contact us. We are always here to help you assist all of your concerns for our hydration pack bladder.
Binding: Sports
model number: HB-OOA1
Part Number: HB-OOA1
Details: If you are looking for effective hydration bladder, Look no further.
EAN: 0667673990832
Package Dimensions: 13.9 x 6.7 x 1.5 inches
Shipping times can vary depending on your location and the fulfillment center used. On average, shipping times range from 5-10 business days. Most cases are much faster depending on location from our warehouses.