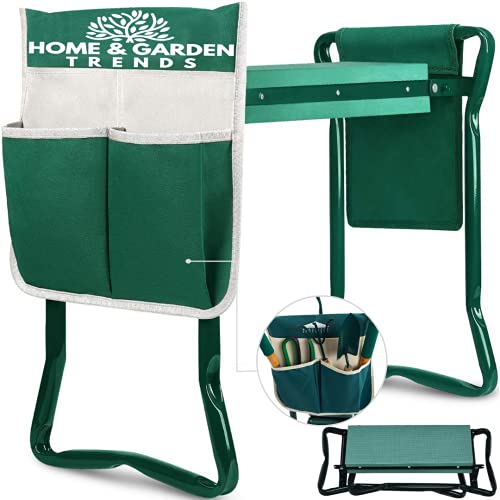 Brand: Home & Garden TrendsColor: GreenFeatures: GARDENING KNEELER WITH COMFORT : This gardening stool can help alleviate back and knee pain with its sturdy arms and frame. The reinforced structure...
FREE
SHIPPING
100% MONEY
BACK GUARANTEE
ONLINE
SUPPORT 24/7
Brand: Home & Garden Trends
Color: Green
Features:
GARDENING KNEELER WITH COMFORT : This gardening stool can help alleviate back and knee pain with its sturdy arms and frame. The reinforced structure of our gardening bench kneeler and seat is perfectly suited for those working in their gardens but cannot find relief from pain.
BONUS TOOL POUCH: Your package comes with a deluxe removable tool pouch that you can attach to your garden chair with Velcro, and have your gardening tools kit right by your side of gardening bench
UNIQUE GARDENING GIFTS: A perfect gardening workseat for senior gardeners, grandparents, mom & dad who love to spend their time in yard. Highly recommended gift for people with knee replacements, joint surgery and arthritis
HEAVY DUTY AND LIGHTWEIGHT: With premium quality of EVA Foam cushion to kneel and sit down, this gardening seat kneeler only weighs 5.7 lbs and folds with no physical force. Portable to move from space to space as you perform chores, easy to store and carry
WARRANTY: Buy Now without any risk. The warranty period for our multifunctional garden kneeler seat is 365 days. If you face any issue with our product, feel free to contact us.
model number: Garden Kneeler & Seat
Part Number: Garden Kneeler & Seat
Details: Do your knees, palms, and back hurt when you do your gardening tasks? Tending to our plants is always a fun and relaxing activity, which is why most of us often spend hours caring for our gardens. However, kneeling all day or sitting on the ground can be punishing on your bones and muscles, especially for the elderly or individuals with chronic pain. But who says we have to give up on gardening? The proper accessory can help minimize the toll on your body, so you can continue caring for your plants. Keep doing what you love with the Home Garden Trend Multifunctional Kneeler and Seat! Let your green thumb work its magic without worrying about your knees, hip, and back. Our bench works as a kneeler (23.5"x10"x19.5") or a seat (16"x 6.25"x2.25") to provide you with the proper support. Hold on to the steel tubes and use your arm strength to raise and lower yourself to prevent back strain. Sitting or kneeling on a hard surface can be hard on your joints. Generously padded with a soft 3/4" thick cushion, our stool helps ease the strain. It's also wider than many, giving you more space to work with. Our stool is made incredibly tough yet portable. It can carry up to 330.7lbs, so you don't have to worry about it suddenly snapping or breaking. It folds down to a compact 22.5"x9"x5", and only weighs an extremely light 5.5lbs. You can easily carry this bench from your living room to your garden, or bring it when traveling, camping, or going on a picnic! Still not convinced? Here are more reasons you'll love this kneeler and seat: ✅ No assembly required ✅ Easy to store and maintain ✅ Comes with instruction manual ✅ Suitable for all ages including adults and seniors ✅ Awesome gift for gardeners Spend hours in your garden every day. Add the Home Garden Trend Multifunctional Kneeler and Seat to your cart TODAY!
EAN: 0860006725815
Package Dimensions: 23.9 x 11.2 x 5.4 inches
Shipping times can vary depending on your location and the fulfillment center used. On average, shipping times range from 5-10 business days. Most cases are much faster depending on location from our warehouses.