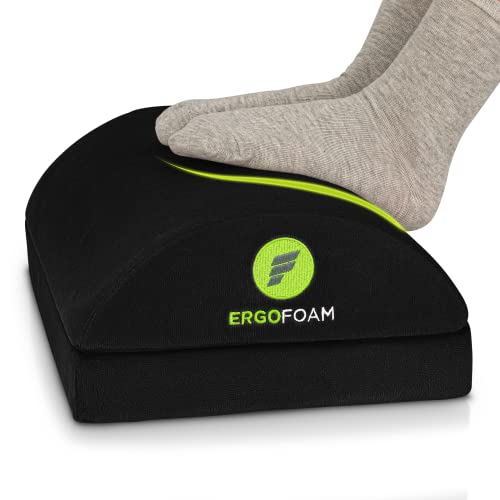 Brand: ErgoFoamColor: Black-tallFeatures: FOR THE BEST SUPPORT POSSIBLE, your under desk foot rest should be CUSTOMIZABLE to your needs – but many foot stools are THE WRONG HEIGHT and AREN'T...
FREE
SHIPPING
100% MONEY
BACK GUARANTEE
ONLINE
SUPPORT 24/7
Brand: ErgoFoam
Color: Black-tall
Features:
FOR THE BEST SUPPORT POSSIBLE, your under desk foot rest should be CUSTOMIZABLE to your needs – but many foot stools are THE WRONG HEIGHT and AREN'T ADJUSTABLE. Made by the only foot rest brand endorsed by U.S. chiropractors, the ErgoFoam Adjustable Foot Rest ADJUSTS EASILY to the optimum height for your chair & leg length, providing the support you need for LONG-LASTING COMFORT, BETTER POSTURE, and RELIEF FROM LUMBAR, BACK, and LEG PAIN.
THE AVERAGE OFFICE FOOT REST is great for the first fifteen minutes, but then starts to FLATTEN OUT due to LOW-QUALITY FOAM that's too soft and flimsy. Our high-density ErgoFoam was developed to MAINTAIN ITS SHAPE and FIRMNESS over time, RESISTING COMPRESSION under the weight of your legs and feet – and providing better support than memory foam foot rest s. With a DOUBLE-SIDED NONSLIP BOTTOM, this under desk foot stool stays put and won't slide around on your floor.
2 FOOT RESTS IN 1! Larger and wider than other foot rest stools, our ergonomic foot rest under desk design features an ARCHED STRUCTURE for COMFY SUPPORT throughout the day. WANT TO GET YOUR FEET & LEGS MOVING? Flip over your foot pillow to transform it into a ROCKER FOOT REST for increased circulation and muscle movement. With our foot stool under desk cushion, you'll notice IMPROVED POSTURE and less back, hip & leg pain. To clean, simply remove its velvet cover and TOSS IT IN THE WASH.
OUR PROMISE TO YOU: We developed our adjustable foot rest for under desk to be THE ABSOLUTE BEST FOOT CUSHION on the market, providing UNPARALLELED FOOT SUPPORT, better posture & circulation, and REDUCED PAIN and PRESSURE on the legs, back, and spine. If for any reason you aren't satisfied with your office foot rest under desk pillow, WE'RE STANDING BY TO HELP make it right – no questions asked. WE MAKE OUR CUSTOMERS OUR VERY TOP PRIORITY.
AT ERGOFOAM, OUR GOAL IS TO HELP YOU FEEL YOUR BEST, EVERY DAY. We designed our line of home office accessories and work from home essentials to bring you COMFORT & EASE IN ANY ENVIRONMENT, whether you're working at your desk or relaxing on the couch. The perfect combination of UNBEATABLE SUPPORT and DURABLE CONSTRUCTION, you'll want to bring your ergonomic office footrests with you wherever you go.
Binding: Health and Beauty
model number: 003
Part Number: 003
Details: El reposapiés más cómodo del mundo ErgoFoam proporciona la máxima comodidad y apoyo firme en tu escritorio durante todo el día. En el trabajo, en casa o mientras viajas, a tus pies (y tu espalda) le encantará el reposapiés ErgoFoam hecho de terciopelo premium. Siente lo mejor de todos los días: el reposapiés de escritorio ErgoFoam proporciona un apoyo firme para tus pies y piernas, lo que te ayuda a sentarte en posición vertical. Elevar tus pies con un cojín de reposapiés ha sido científicamente probado para reducir la fatiga y el dolor en tus piernas, espalda y cuello, y mejorar la circulación general. Ajusta para tu máxima comodidad. ¿Tienes piernas más cortas y necesitas un reposapiés un poco más alto? Entonces el reposapiés ajustable ErgoFoam es perfecto para tus necesidades, lo que te permite añadir o quitar pulgadas a tu reposapiés para máxima comodidad. Diseñado en América del Norte – El reposapiés ErgoFoam fue diseñado teniendo en cuenta los altos estándares de calidad del profesional norteamericano, utilizando solo los materiales más duraderos. ErgoFoam es el único taburete para pies bajo el escritorio que ofrece una garantía limitada de por vida. Simplemente envíenos una foto del problema y reemplazaremos el reposapiés de su oficina, sin preguntas. Se dobla como un balancín. Gira tu ErgoFoam con el lado curvado hacia abajo y se convierte en un balancín para mantener tus pies en movimiento. Parte inferior antideslizante: la parte inferior antideslizante de ErgoFoam evita que se deslice en el suelo o en la alfombra mientras está en uso.
EAN: 0627987095036
Package Dimensions: 17.4 x 11.9 x 6.1 inches
Shipping times can vary depending on your location and the fulfillment center used. On average, shipping times range from 5-10 business days. Most cases are much faster depending on location from our warehouses.