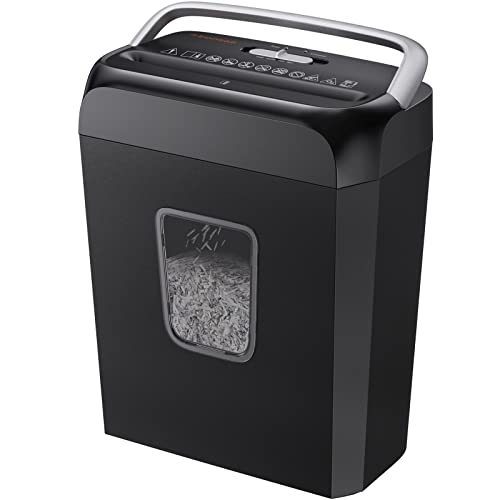 Brand: bonsaiiColor: BlackFeatures: 【Crosscut Paper & Credit Card Shredder】Bonsaii home paper shredder, shreds up to 6 sheets of paper at one time (Max 36 Sheets in one minutes) into tiny...
FREE
SHIPPING
100% MONEY
BACK GUARANTEE
ONLINE
SUPPORT 24/7
Brand: bonsaii
Color: Black
Features:
【Crosscut Paper & Credit Card Shredder】Bonsaii home paper shredder, shreds up to 6 sheets of paper at one time (Max 36 Sheets in one minutes) into tiny pieces measuring 13/64 x 1-37/64 inches (5x40mm), also destroys junk mail/document/staples/credit cards as well.
【Compact Sizes】The home shredder comes with portable handle design and small size of 14.1 x 11.8 x 7 inches, you can place it in the coner or under the desk. Perfect for home or small office.
【Easy Operation & Safe Protection】Auto start/stop and manual-reverse function protect the paper shredder from the frustration of paper jams. Overheat protection function tackle the trouble in using the shredder and prolong its lifetime. The document shredder will stop working once you lift the head, keeping you safe.
【3.4 Gal Transparent Wastebasket】The crosscut shredder with 3.4 gallon wastebasket can hold 180 sheets of A4 paper for less frequent and easy emptying. Large transparent window makes it easy to see when it is full.
【1 Year Warranty & Professional Service】Bonsaii provides 1-Year warranty for our products. If you meet any questions during use, please feel free to contact us, we have professional customer service to help you within 24hrs.
Binding: Office Product
model number: C237-B
Part Number: C237-B
Details: Great for Your Home Office
Bonsaii Small home office Paper Shedder make it easy to use and perfect for your home office. It can shred all of your sensitive personal information from old tax records, bills to bank statements. Paper shredder can shred up to 6 sheets of paper (Letter Size, 20lb) at a time into 1/6 x 1-25/32 (5x40mm) smaller particles than standard cross-cut, minimizes your important document of identity theft..

No Hassle and Easy Operation
The bonsai shredder features convenient small handles for easily lifting the shredding part to empty the wastebasket when it is full watching through the window in the front.
In the auto start mode, the shredding begins automatically when the sensor in the middle of the feed slot detects paper inserting. If the shredder is jammed due to shredding exceed paper, the manual reverse can help clear it out.

Overheating Protection
Bonsaii shredder is equipped with an overheating protection system. If it shreds continuously beyond the max running time and begins to overheat, the unit will automatically shut off to protect the motor .
Using tips:
1. Shredder an 'oil sandwich' once a month for prolong the lifetime of the home office paper shredder.
2. When not in use, unplug and leave in corner by outlet ready to go next time.
.
1-Year Warranty: The warranty of this unit is 12 months from the date of first purchase, provided that the machine has been used appropriately, which ensures the least worries and best experience that we could provide for our dearest customers.

NOTE: A few pieces of shredded paper may be found inside the shredder blades or the wastebasket due to the 100% full shredding test in the process of manufacturing to ensure quality. If you are not satisfied, please contact customer service for further assistance.

What's in the packaging
EAN: 6955414105015
Package Dimensions: 13.5 x 13.3 x 7.5 inches
Shipping times can vary depending on your location and the fulfillment center used. On average, shipping times range from 5-10 business days. Most cases are much faster depending on location from our warehouses.