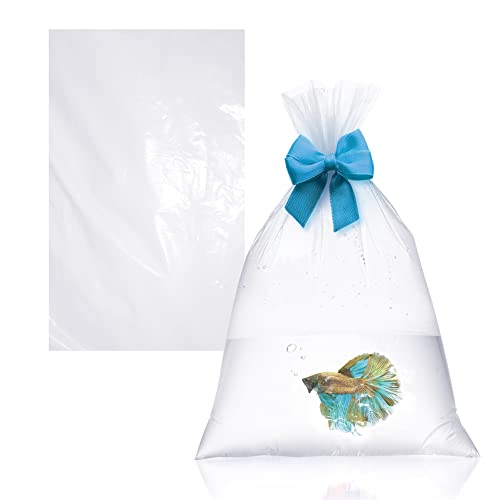 Brand: APQ SupplyColor: ClearFeatures: PACK OF 100 LEAK PROOF PLASTIC BAGS 6 x 12 inch: Unprinted clear plastic aquarium fish bags are suitable for transporting forage fish. The fish transport...
FREE
SHIPPING
100% MONEY
BACK GUARANTEE
ONLINE
SUPPORT 24/7
Brand: APQ Supply
Color: Clear
Features:
PACK OF 100 LEAK PROOF PLASTIC BAGS 6 x 12 inch: Unprinted clear plastic aquarium fish bags are suitable for transporting forage fish. The fish transport bags are easy to store and use. Goldfish container is simplicity, safety, and convenience.
MATERIAL FEATURES: Fish are made of durable 100% virgin low-density polyethylene with a thickness of 2 mil, which provides a safe space for your fish. Goldfish plastic container is crystal transparent, which allows you to observe the fish constantly.
EXCEPTIONAL QUALITY: Fish bag is distinguished by reinforced seams. In addition, bags for fish are waterproof. You can be sure water will not get inside or outside the fish carrying bag.
COST-EFFECTIVE: One of the best qualities of live fish package is its incredible durability and strength. Fish transport container is one of the most efficient and inexpensive ways to pack and transport fish.
VARIETY OF USE: Goldfish bags are the perfect way to transport your new aquarium fish from a pet store to your home! Also, the 2 mil poly bag is ideal for fish markets, seafood restaurants, etc. The large capacity of poly bags allows shipping fish with comfort.
model number: PFB612
Part Number: PFB612
Details: Low-Density Polyethylene Flat Bags for Live Fish TransportationQuantity: Pack of 100Material: 100% Low-Density Polyethylene (LDPE)Type: Open Top Plastic BagsLength: 12" (inches)Width: 6" (inches)Thickness: 2 ml.Color: Clear/Transparent Fish are gentle yet strong beings, whether we look after it or use it for nutrition. In any case it should be taken good care of during transportations from pet shop to home aquarium or kept at the fish markets and marine restaurants to gift the customers the top quality of live fish meat. How to achieve the required level of safety for these beings? To use live fish shipping bags! Heavy-duty materials (100% virgin Low Density Polyethylene) used during manufacturing make the fish bags resistant to physical and chemical impact, additionally making polyethylene bags water-resistant. Consequently, it recommends itself as proving bag gaining your trust. Open top construction, clear transparent material and optimal thickness of 2 mil create ultimate universal design for any medium-sized fish (decorative aquarium fish, small fish from market, etc.) to be safely contained, helping you to transfer and storage the fish effectively during its journey. Leak proof plastic bags will unsure that not a single drop of liquid inside will be lost. QUALITY of fish transport container and your SATISFACTION is GUARANTEED and PROTECTED by the manufacturer! If you are left unsatisfied, get 100% refund.
EAN: 0048996098885
Package Dimensions: 12.8 x 6.3 x 1.0 inches
Shipping times can vary depending on your location and the fulfillment center used. On average, shipping times range from 5-10 business days. Most cases are much faster depending on location from our warehouses.