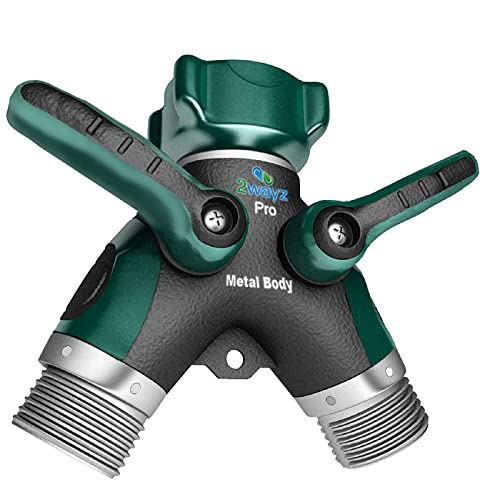 Brand: 2WAYZColor: Single SplitterFeatures: Bolted Components: Inlet & outlet strengthened in the newest version of our dual water hose connector. After many months of lab trials, our expert engineers have...
FREE
SHIPPING
100% MONEY
BACK GUARANTEE
ONLINE
SUPPORT 24/7
Brand: 2WAYZ
Color: Single Splitter
Features:
Bolted Components: Inlet & outlet strengthened in the newest version of our dual water hose connector. After many months of lab trials, our expert engineers have completely reconstructed critical components of the splitter. The 2 spouts are now fastened with metal bolts, and won't disconnect. The neck is affixed with threads, anchoring the two parts.
Seamless Installation, Smooth Operation: The 2 way garden hose splitter has long handles (4 cm) which allow for smooth and easy shut on and off. Because the splitter is coated with rubber, it is ideal for stiff hands or hands with arthritis. Other than a basic understanding of how spigots and hoses work, no tools are needed, ensuring an easy and flawless installation. The water hose splitter is also able to rotate 360 degrees, allowing you to tug and pull hoses in all directions.
No Leaking and Watershed: Long and smooth thread with rubber ring at female end will make leaks a long forgotten experience. Full rubber cover makes working with the y garden hose splitter easy in all kinds of weather.
Spigot Extender: Is your faucet too recessed into the house wall, causing you to scrape your knuckles any time you try to connect a new water hose? Use this hose extender to allow you more maneuverability. You can also start filling up watering cans and buckets from the spigot, since this spigot extender will allow you to fit the bucket under the now extended spigot.
Unique Design: 2WAYZ garden hose splitter was the first heavy duty hose bib with this revolutionary design. First on the market! Designed to last, like all other 2WAYZ gardening products. Check out other 2WAYZ products to make your gardening easier and more comfortable!
Binding: Lawn & Patio
model number: 161-M-1
Part Number: 4316356159
Details: Are You Ready to Unlock the Potential of Your Spigot?

High Quality, Durable, and Sturdy are just SOME of the Amazing Features!
2wayz has completely revamped the internal and external construction of the splitter for 2017. Housed in metal, bolted with screws, and fastened with threads, we provide you with a sturdy, leak free experience which will last forever. First to market, our design has sparked countless copycats, but customers continue flock to our superior quality and design.

Imagine the limitless uses the 2wayz Garden Hose Splitter can provide!
Built for the professional gardener as well as the regular homeowner. Expand the spigots you currently have, create a complicated drip irrigation system, fix an alternative to a full blown irrigation system; the potential is unlimited!

Safe for the kids, the garden, and the environment!
Thanks environmental and safety minded engineering, 2wayz Garden Hose Splitter is lead free, allowing your whole family to work the hoses in safety and tranquility. Be prepared to listen to the irrigation system trickling all over your organic farm in harmony, feeling confident that your food bounty is healthy, robust, and chemical free.

Simple to install, simple to operate, and ergonomic!
Installing the 2 way splitter is as simple and hassle free as it sounds! To tame your tangled mess of hoses, all you need to do is connect the main to the spigot, and attach your hoses to one of the faucets. The clean and durable TPR rubber coating of the metal housing provides easy grip, even when your hands are wet! The smooth long levers make it perfect for people with stiff hands or arthritis. No more using a wrench to turn the water on and off!

Start saving water, time & money using our upgraded 2017 revolutionary everlasting design.

Add to Cart NOW, and join the family of our happy customers!
EAN: 0784672328760
Package Dimensions: 4.2 x 4.1 x 2.2 inches
Shipping times can vary depending on your location and the fulfillment center used. On average, shipping times range from 5-10 business days. Most cases are much faster depending on location from our warehouses.